Krystian Zimerman gave an interview to Japanese media during his stay in Japan in November 2008
to perform piano concerto by Lutosławski with Chung Myung Whun.
He describes himself as a pianist obsessed with the ideal sound.
He never announces the recital program until just before the recital.
"It takes about 10 years to make one music work my own.
So I cannot determine a program of recital a few years ahead
because it could cause a sudden change of the program".
He always quests for the best sound for the audience by making the best possible efforts.
He maintains good and deep relationship with some friends and music colleagues
with whom he has a heart-to-heart talk.
Gidon Kremer is one of them.
"I'm stubborn about performance.
I don't budge an inch for the interpretation that I completed
by reading score and practicing it until I'm really convinced.
In the duo concert with Kremer, I felt the same kind of persistence from his interpretation.
It was interesting.
But we have never had conflicts. It's because what we are aiming at is the same.
Our stubbornness is commendable, isn't it?"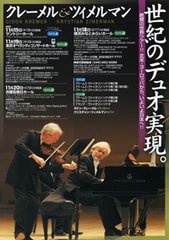 Duo concert with Kremer
Zimerman cites one more artist who is really stubborn, although he is young.
Rafał Blechacz, his compatriot.
Zimerman gave advices to Blechacz in several occasions since before the Chopin competition
so that he can perform to the full extent of ability.
He continued his support even after the competition;
helping the younger colleague avoid the bumpy roads that he had faced when he was young,
enabling Blechacz to advance to smoothly explore his path.
"What I do is not especially significant.
I sometimes introduce to him some music partners I trust and people in the relevant fields,
or sometimes give advice on repertoire.
That's it.
Otherwise, we just enjoy chatting.
Rafał is very sincere, honest and positive.
Has a good manner and courteous to superiors.
Among other things, he is blessed with an outstanding talent.
Therefore, he is loved by all the people.
There are quite a few people who are willing to support him.
It is quite important for a musician, for a man.
If you are ill-natured, nobody would help you".
In addition to Chopin, Blechacz is now focused on works by classical composers.
He studies the works thoroughly before bringing them out onto the stage;
some of them were recorded for the latest CD.
I guess this may have been influenced by Zimerman's advice.
Zimerman is famous for a wide range of repertoire from classical to romantic, modern and contemporary music
but he makes it his motto to always return to the classicals.
(excerpt from the interview)
Interviewer: Ms. Yoshiko Ikuma
Published by Ongaku-no-tomo (music friend), March, 2009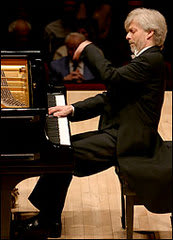 @ Carnegie Hall, 2005
In the interview, Zimerman also talks about his approach to playing Bach with piano,
how he tries to bring out the best music to the audience,
and how he encountered and began involved in music when he was a child, etc...
***
My friend found this article and sent it to me.
She attended Blechacz's recital in Yokohama in Feb. this year.
At the autographic session after the recital, she put a picture on the talbe for him to sign, asking,
"Onegai-shimasu. (Japanese meaning "Sign here, please".)"
Blechacz put his sign on it and returned it back to her, saying,
"Douzo. (Japanese meaning "Here you are, please.") with a beautiful pronunciation and with a sweet smile.
***
A Polish fan said that her neighbor watched
TV interview by Blechacz
,
impressed by him and decided to buy all his CDs.
She likes operas and isn't a frequent listener to piano music so far.
She says, "Blechacz has a disarming personality".
Short stories that exemplify how nice and well-mannered he is.