"Rafał had a big success in Paris' Théâtre des Champs-Élysées tonight playing Saint-Saëns' Concerto No. 2.
with L'Orchestre national de France under Fabien Gabel (in the first part of the evening).
The applause was overwhelming, and voices of "Bravo! Bravo!" were heard from all over the hall.
He had to come out to bow repeatedly and gave two encores.
The whole tour from London through the Netherlands and Spain to Paris was a big Rafał's success
and is an unquestionable evidence of his great talent and his eagerness to share a beauty of his playing".
↑ The news that I received from Mr.Roman Frackowski at 23:15 on May 14 (Paris local time).
I would like to extend my sincere appreciation to Roman for letting us know such a good news.
Let me also express our heartfelt congratulations to Rafał Blechacz and his family for his continuous success
and gratitude from the bottom of our heart for bringing us the great source of hope
and happiness
through the beauty of music.
Dziękujemy bardzo and arigatou gozaimashita♪
Many Polish media didn't waste time before reporting Blechacz's second success at Théâtre des Champs-Élysées.
Wprost 24 (Polish)
was the earliest, posting the news at 2:52 am on May 15, four hours after the concert in Paris.
It's headline is:
"Blechacz kidnapped (captivated) the French".
"In less than two months after the triumphal recital in Paris, Rafał Blechacz again captivated French audience.
...daring execution by Blechacz's second concerto by Saint-Saëns caused avalanche of applause
leading to double encores to which the artist has chosen his favorite Chopin.
Among the audience was
Roman Polanski
, the director of "The Pianist".
The virtuoso was not allowed to leave the stage for a long time".
Rafał "Fryderyk" Blechacz
←by Gazeta.pl.Wiadomości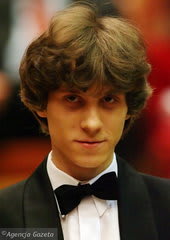 "Blechacz played in such way that knocked the French down to their knees".
Rzeczpospolita
"Rafał Blechacz has conquered Paris".
Polish Radio report (English)
"Blechacz takes Paris audience by storm".
And many more...
My impression is that the media coverage of Blechacz's two-fold appearance at Théâtre des Champs-Élysées
is more enthusiastic than in Jan. 2008 when Blechacz had the first recital in Paris
or in Feb. 2008 when he toured in Italy, although it was covered very extensively by Polish and Italian media.
A star growing more brilliant far off in the universe..