From my archive.
Review/impression on Blechacz's CD "sonatas" and "Preludes" + Salzburg recital (Aug.15, 2008)
posted on web version of Frankfuter Rundschau, a newspaper in Frankfurt am Main in November 2008.
Original article (German)
Pianist Blechacz
One could also mention the spirit
BY JÜRGEN OTTEN
He is small. Pale. Slim. Slender. Tender. Somehow fragile. You could overlook easily this young man, who hasn't had even too much for a man. He is also only 23. Actually, almost still a child, habitually. And as he stands so innocently there, a little embarrassed, you would like to pass out an icecream most dearly for him. In acoustically sensitive Mozarteum, he had his enthusiastic Salzburg debut with works by Bach, Liszt, Debussy and Chopin this year. That is already something, if you recall how big the competition in Salzburg was; even Krystian Zimerman, the Phantom, was heard with Beethoven and Polish modernism.
Zimerman: If one wants to pull a line quite carefully, he leads this exceptional pianist Rafał Blechacz. Both are from Poland, both tend to be lyric in their play rather than turbocharged with dramatc effect, and both won the most important international piano competition in early years, Chopin competition in Warsaw in 1975, when he was 19, Blechacz three years ago, with 20, still registered as a student of the music academy of Bydgoszcz (sic).
A man of sound-sensitivity
The significant fact was the sovereignty and lead with which he won. No debates, no scandal, the jury was unanimous: He can do everything better than the others. Never before one and the same pianist won all prizes. And never before was the industry so quick. Hardly had he returned from the victory (an astonishment, according to Blechacz, when the gold medal was presented), there was a contract on the table. Exclusive of course. And from the finest.
No question, then in the past year he brought the first CD: Chopin, the Préludes. And we covered the actions of this new star of heavenly tones,you could at least say: Damn, he is gifted. A sound-sensitive pianist before the Lord, equipped with a technical skill that opens all doors to him. But just then there was the small but subtle problem. Still, he had one or the other door closed. You hear it especially in the pieces that seem so easy and just requires the big designers in those Préludes So, where pianist brilliance is not enough to intrude into Chopin's cosmos of idea (Ideenkosmos). To e-minor Prélude and approximately equal to the so-called rain-drops Prélude Blechacz was little, because we felt his interpretation naive.
However, romantic longing and sighing and delighting (or everything together) asked the Polish pianist to show his whole heart, so to speak. Since then, whether the agnostics or believers, the captives (of Blechacz) have been carried away into the world of idealistic dream landscapes.
He has rapidly developed, but not hastily. He has finished his studies at Jacek Polanski (sic). And not only the congratulation tour of the miracle boy completes, but at the same time at the right finishing repertoire. You may now breathe a sigh of relief already, when the young pianist is not encouraged by the noise, not intoxicated into Chopin, Liszt and Rachmaninoff- floods descending to let off steam there and never appearing again, but Viennese Classicals of Haydn, Mozart and early Beethoven. And Bach.
Blechacz loves Bach
, you can tell it by listening to his performance. The plasticity, precise articulation and audibility also for Chopin, Liszt and Debussy, have their origin there.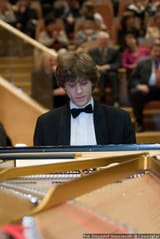 A kind of anti-Lang Lang
You could call it also "spirit", and Blechacz as a kind of anti-Lang Lang designate. Lang Lang offers entertainment, which gives up interpretation; his eight bars for Mozart enough to be angry. With Blechacz, the same bars suffice in order to know: we know this is what Mozart wanted, and assigns his will only once before he becomes willful.
Blechacz formulated this will with accuracy, with sensitive phrasing, with a feel for the tonal refinements. But he never overcharges. Therefore, and because his nature is rather shy, his verbal acting rather deliberately, he will probably never be a guest of a talk show. But he probably doesn't know what kind of luck that means.
What he knows is that he not only wants to play piano in the near future. In the coming year Rafał Blechacz will enlist at the university, for the subject of philosophy. And second album was dedicated to Haydn, Mozart, Beethoven. Worth listening.
Rafał Blechacz, Sonatas. Deutsche Grammophon / Universal
"A man of sensitivity" - original German of this is "Ein Klangsensualist".
It can be literally translated as "a sound-sensualist".
But "sensual" in English, in my impression, is too philosophical and I felt it at odds with my image of his Preludes.
So I used "sensitive" instead.
My choice of word could be wrong, because I'm not a native speaker.
Before, I saw "sensual" was used in
two reviews at Blechacz's web site
(already translated into English):
Kurier (Austria) for the recital at Vienna, Konzerthaus, Nov.2007
and De Volkskrant (the Netherlands) for the recital at Amsterdam Concertgebouw, Oct.2007.
May 26 is "Mother's Day in Poland. Happy Mother's day!!) 
US, Germany, Japan, etc..celebrate "Mother's Day" on the 2nd Sunday of May.