I found four or five Spanish blogs writing about Blechacz's recital in Valencia on May 5.
The following one describes the recital quite comprehensively.
The author (male, 30-40 years old??) writes many reviews on music performances in his blog,
not an enthusiast of Blechacz (he says that he has not yet heard Blechacz's CD "sonatas",
but he observes meticulously how Blechacz performed and how people reacted that night.
Original review (Spanish)
(Introduction of Blechacz:competition, contract with DG)
Rafal Blechacz yesterday gave an exciting concert at the Sala Rodrigo of Palau de la Música in Valencia,
in the cycle of 'International Chamber and Soloists' for the audience in Valencia,
with a program devoted mainly to the Polish composer.
He began his performance, however, with the 'Italian Concerto' by Johann Sebastian Bach,
a composer that Chopin deeply loved .
When starting the primary rhythm, he showed the elegance and majestic fingering and millimeter accuracy
to characterize the evening.
A flawless technical execution, nothing exhibitionist but far from cold.
With the apparent simplicity, he combined with the devilish speeds of the final Presto
with the intimate profoundness of the Andante.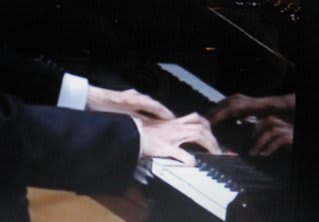 The "heir" of Chopin,
"His hands are like a pair of white doves."
says another female Spanish fan in her
blog.
It was pity that in this most beautiful second movement,
all the subtlety of the Polish interpretation becomes damaged
by a pair of terrorists' cough, gulped mucus and fierce sneezing.
I do not know if it is the result of swine flu,
but given the pig-like behavior by the offenders, it might be.
Actually, the behavior of the public yesterday at the Palau de la Música was infinitely more respectful
than in other times and venues.
Blechacz lovingly cleaned the keyboard and his hands, which is a gesture he repeated before starting each piece,
Then he ventured into territory of Mozart by "Sonata in B flat major KV570" of Salzburg school.
Blechacz here confirmed his prodigious technique and interpretative strength,
however it was the only time of the recital that some signs of coldness were intuitively sensed.
The 'Variations in B flat minor op. 3 ', also the Polish Karol Szymanowski,
were flowing in a stream of notes gradually increasing emotional intensity,
and despite the difficulty of enforcement, Blechacz gave a deep and touching reading, full of nuances,
of this most beautiful piece, resulting in a passionate end to the first part of the recital.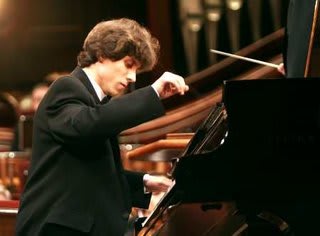 And the better had not come yet.
The second half was devoted entirely to Chopin,
and Blechacz showed why he is considered a specialist in interpreting the music of his compatriot.
The 'Ballade in B flat major op.47 No 3,' is a piece of an amazing beauty,
which Blechacz demonstrated deep musical maturity, not matched by the young, 23 years old,
and handled the instrument with an elegance and enormous cleanliness.
Two Nocturnes op. 62, composed in the last years of life of Chopin,
there are features that clearly indicate an evolution towards musical impressionism in the future.
Here and in the 4 mazurkas op.17 that followed,
the lyricism in the implementation by the interpreter reached extreme heights without boasting gesture,
caress our ears with the sensitivity and poetry
that he could draw from each note in his pristine and eloquent phrasing,
leading finally to captivate the audience that remained, this time,
in monastic
silence
full of emotions during the performance.
(Here the author shows video of Blechacz performing Nocturne op 62-1 )
Sala Rodrigo of Palau de la Música in Valencia
After cleaning the keyboard once again embarked, and finally, the 'Heroic Polonaise in B flat major op.53',
an epic piece which is usually performed with excessive enthusiasm, almost histrionically by some interpreters;
but Blechacz kept the precise tempo and volume of flawless performance of other pieces,
strong and clean at once, again flooding the room with emotions
by his intelligent reading of the score, not by banging the instrument patriotically.
A very long and deserved ovation, with many bravos, was awarded to smiling Blechacz,
who was forced to repeatedly greet the public
and finally gave the Scherzo of the 'Piano Sonata No 2 in A major Opus 2 No. 2' by Ludwig van Beethoven
as encore full of grace and vividness.
The music of yesterday and easy if badly called. Heard a thousand times, it could be.
But for that very reason, it is much more worthy of trying to get the audience moved as he did yesterday,
this very young Polish, who was also seen enjoying his interpretation,
and who is now called "the star"if not yet.
(Now the author shows Blechacz's Polonaise "Heroic" in video.)
The author compares loud coughs to terrorist deed.
I noticed similar bombardments of coughs when I heard radio-broadcast Blechacz's recital in Paris (March 27),
Hopefully they should have covered their mouths with hands when coughing.
In
an interview
last year, Blechacz was asked what his ideal audience would be like.
His answer was:
"One that doesn't cough, that switches off its mobile phones,
that doesn't unwrap sweets and that doesn't fall asleep during the concert.
That is simply listening. But I know that this is impossible".
Oh, I don't think it is impossible.
At least, most of Japanese audience are quiet and attentive when listening.