On May 14, 2009, Rafał Blechacz played piano concerto No.2 by Saint-Saëns at Théâtre des Champs-Élysées
with L'Orchestre national de France directed by Fabien Gabel.
A fan from Poland attended the concert and expresses how she was impressed by the performance.
************************
Concerto like a dream
"Paris is the town filled with the art since centuries. You feel it everywhere.
Parisians love music. This concerto was a proof of it.
The hall was almost full I saw only single free seat.
Rafał went on stage as usual smiling, bowed to audience, orchestra
and shook hands with the concertmaster who was blond woman of middle-aged.
The beautiful story was beginning from first note.
Rafał with orchestra took us away to magical world plenty of different feelings, world of Saint-Saëns.
They were together painting magnificent pictures full of harmony of colour and beauty.
You heard joy of play like a dialogue between Rafal and orchestra.
When I listen to Rafał's concerto I have feeling that he knows the whole score
not only for piano but for all instruments.
After the first movement some people were giving applause,
I think the novices who became music lover thanks to Rafał,
but stopped at once and a dead silence reigned as if all was still in music,
no coughs, coughing fits, conversations.
The second movement lively and funny.
Public was in high spirits, you can feel it but still in silence.
And the third movement very fast. The emotions grew in strengh.
After that, huge ovations and shouts "bravo".
The most moving person of this concerto was conductor Fabien Gabel.
He snuggled very warmly Rafał and embraced him.
he was really enchanted to make concerto with Rafał
and orchestra too, they gave ovation with bows.
Rafał was happy. His dream was realized, nobody coughed; there was silence.
Concerto was so beautiful that all forgot about their physical body.
Two encores. The first Mazurka No.2 op.56 and then Preludium No.7 op.28.
When he played encores women violinists were smiling with the big admiration.
Rafał won their hearts, their faces were full of joy.
One woman gave Rafał a bunch of white roses.
It was the most beautiful day in my stay in Paris.
Thanks to Rafał and orchestra.
I am still there.
Thank you Rafał, thank you orchestra!
Best regards and love,
Dana "
****************************::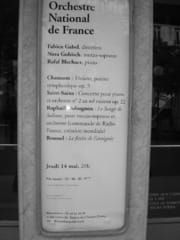 Thank you Dana. It is one of the most beautiful "reviews" of Rafal's stage that I read in May.
She says she felt something surreal or dreamy as if she were in the world of paintings.
It tells what the true music delivers.
Genuine music lovers accept what strikes on their heart, honestly express it as it is
and expand the resulting happiness to many others.
I could see the stage where Fabien Gabel hugged Rafał while musicians warmly smiling.
Frédéric Chopin's grave,
Père Lachaise Cemetery in Paris