Elżbieta Sobolewska of the Polish weekly "Cooltura" in London interviewed Rafał Blechacz on 22 April 2009,
right after his recital at Wigmore Hall.
The interview was posted on elondyn.co.uk as of May 1, 2009.
Original interview (Polish)
Our pianist
by Elżbieta Sobolewska
Magnificent, nearly 24 years old pianist, who won the Chopin Competition in 2005,
once again appeared in London. Rafał Blechacz gave a ravishing concert at Wigmore Hall.
After Bach and Mozart he received a fervent applause.
After "Variations" by Szymanowski they whispered: "phenomenal".
And when he played Polonaise in A flat major, so-called "Heroic", the audience went mad.
They began with encores and afterwards took Rafał with themselves at home.
"Please write that the British haven't got enough CD's of
our pianist
,"
said to me in confidence a female music lover and poet who wrote a poem when he played.
The poem she will send by post and after the concert she read the first fragment to Rafał,
asking for his autograph.
We have a quarter of an hour to have a conversation.
Tomorrow, first in the morning he will depart for the next concerts and his father accompanies him as usual.
In autumn of this year, his music lovers will welcome the third album
which will be recorded by the most important publisher of classical music in the world :
Deutsche Grammophon".
As in the case with the first CD, it will be again Chopin.
"He is very close to my heart.
In the end I thank him for giving the possibility to play around world.
I came through to music of Chopin by studying works of different style,
first classical music as well as impressionist.
My sensitivity to colors, timbres of sounds and hues, so important in case of Chopin's music to a great degree
was shaped by Debussy and that helped me to feel and understand Chopin's works.
You can say that I've matured it through exploring other composers," says Rafał Blechacz.
He has never run away from piano; has always been friendly with it.
"I had willingness in myself to play from the beginning.
All music exercises which polished up technique of playing,
as a pupil afterwards as a student,
let me say that I had to "do my homework" but without it
I could not think about further development of artistry and interpretation," he continues.
He likes giving a concert.
He doesn't feel under pressure but pleasure, mobilization and eagerness, but no stage fright.
"Although I would rather not be slave to the public performances
and sure I don't want to live from one concert to another.
The fame has never been my purpose either;
it is like a side effect of my job.
There is no need in me to compete, but I knew that Chopin Competition is the only way
by which I can begin performing concerts.
As long as I feel a need to play to the public, I will do it," he says.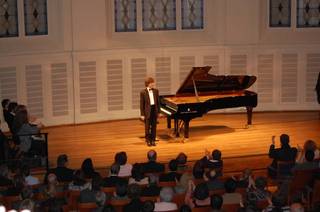 Konzerthaus in Vienna, November 2007
His life it not only music; the philosophical study which he has begun recently
helps him to develop ability of interpretation.
"If I restrict myself only to music I would lose it.
When I am creating a work I search for inspiration mainly from life,
different experiences that I have and another fields of art like paintings or literature.
Philosophy is so extensive and enriches deep cognition
that it allows me to explore literature and art
and thus obtain a broader view to develop my personality.
Reading philosophy of music or aesthetic has a positive effect.
My study is therefore, reflected on the music that I play.
What has always been the most important for me is the wish to share the beauty of music with people,
which I now realize all over the world."
When he won the Chopin Competition, people were standing under the windows of his home in his native town Nakło
in order to listen to how he practiced.
Now they got used to it, that they have their famous pianist..
Honorary Citizen of the town and even the hero of poem.
Thanks to Roman for the data and to Dana for the translation.
**
One of Japanese fans said that she notified her friend in UK of the Blechacz's recital at Wigmore
and the friend attended the recital with her husband on April 22.
The couple were deeply moved by his performance.
She quoted her husband as saying
that he was amazed by the matureness of Blechacz's music albeit he is very young.
Her daughter attended another recital by Blechacz in Paris on March 27.
Pleased to know there are beautiful encounters between the artist and audience
here and there through the love for music.