On May 8, Rafał Blechacz played concerto No.4 by Beethoven
with Orquesta de Valencia directed by Paul Daniel
at Sala Iturbi, Palau de la Música, Valencia.
(Program)
Overture: Consecration of the House op.124 by Beethoven
Piano concerto No.4 by Beethoven
Sinfonia da requiem by Britten
Variations (? Prelude) and Fugue by Britten
ABC.es posted a review on the concert written by JOAQUÍN GUZMÁN.
ABC is the third largest national newspaper in Spain.
Original review (Spanish)
I'll excerpt the part related Blechacz.
The new Zimerman?
by JOAQUÍN GUZMÁN
Consecration of the House by Beethoven that will not get into the annals opened this atractive concert
in which we had the good fortune to meet an interesting director, Paul Daniel,
and a young Polish pianist, Rafał Blechacz, candidate of worthy successor to the great Krystian Zimerman.
Back in the 1980's, a young pianist emerged from Poland and recorded wonderful concertos
by Beethoven and Brahms with Bernstein.
Today he remains as one of the greats.
Until the arrival of this young man -winner of the Chopin Competition in Warsaw,
no one had not appeared in that country, the cradle of great pianists,
with expectations to be called a successor to Zimerman.
Blechacz has
Apollonian pianism of very precious pearls
.
However I noticed some coldness and distance in this Beethoven
which is not appreciated, for example, in his live version of concerto No.1 by Chopin.
He dominates perfectly the dazzling fingering and is less eloquent with dynamics.
The enthralling moderato, however, was perhaps the best of the evening,
with the exception of some trills.
He gave gifts of Prelude by Chopin and Scherzo by Beethoven.
(comments on Britten by orchestra.)
Review on Beethoven No.4 in Valencia, Spain (1)
Review on Beethoven No.4 in Warsaw March 2009
Review on Beethoven No.4 in Japan, Feb. 2009 (1)
Review on Beethoven No.4 in Japan, Feb. 2009 (2)
Preview of Saint-Saëns with L'Orchestre national de France directed by Fabien Gabel on May 14
"......For his first rendez-vous in Paris with orchestra,
Rafał Blechacz interprets the Second Concerto of Saint-Saëns in a program of French music...
... L'Orchestre national de France is directed by
Fabien Gabel
, former assistant to Kurt Masur".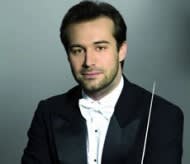 Fabien Gabel, born in 1975 in Paris.
Trumpeter and conductor.
(Oh, A.Nelsons was also trumpeter...!)
As for Blechacz's recital at the same venue, Théâtre des Champs-Élysées on March 27,

Polish media
quotes Edouard Four Caul-Futy, for his high esteem and praise of Blechacz's playing
as he called him an extraordianry pianist and a star of the day.
(Thanks Roman.)