On May 8, Rafał Blechacz played concerto No.4 by Beethoven
with Orquesta de Valencia directed by Paul Daniel
at Sala Iturbi, Palau de la Música, Valencia.
(Program)
Overture: Consecration of the House op.124 by Beethoven
Piano concerto No.4 by Beethoven
Sinfonia da requiem by Britten
Variations (? Prelude) and Fugue by Britten
LevanteEMV.com posted a review on the concert written by Alfredo Brotons Muñoz.
The same reviewer wrote
the review
on Blechacz's recital on May 5 in Valencia.
Original review (Spanish)
Let me excerpt the first part (Blechacz related) only.
by Brotons Alfredo Muñoz
The history of musical performance has opted for understanding of Beethoven
as a composer in which the force is a critical component.
So much so that for some musicians, Beethoven has converted from inescapable into exclusive.
The first part of this evening served to prove that not only the muscle is consistent with the refinement,
but also the combination of both, with various balances, is desirable and possible.
Paul Daniel (Birmingham, 1958) presented the overture "Consecration of the House" from these parameters.
Thus, the emotions of tumult and vigor in the solemn passages never resulted in lack of clarity,
while the inserts of lyrical mood were rightly appreciated as contrast.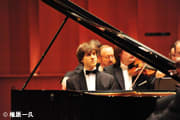 Playing Beethoven concerto No.4
Feb.2009, Fukuoka, Japan
In the fourth concerto by Beethoven, the score makes it very difficult for the accompaniment
not to cover the soloist,
or with modern pianos, very difficult for the soloist not to cover the accompaniment.
The problem was solved thanks to the magnificent quality
exhibited by all the players.
The young Polish pianist Rafał Blechacz (Nakło nad Notecią, 1985) revalidated the great success in the recital four days earlier
(certainly, it's a great idea to have the double contract with Blechacz).
His sound may be fragile but surprisingly favorable for Beethoven
in the same manner as it was favorable for Mozart or Chopin,
and his fingering was nearly perfect.
In the 1st and 3rd movements some discrepancies were noted with the director
who was seen a little uncomfortable to such a high speed.
In the central movement, the long chords contrasted very beautifully
with the utmost tenderness displayed on the keyboard
which finally took over the rage contained in the orchestra in some trills of nightmare.
To the strong applauses Blechacz responded with two tips:
the Fourth Prelude by Chopin,
and again, the Scherzo of the Second Sonata by Beethoven.
(The second part two works by Britten very different in nature and purpose, ...)