Express Bydgoski on June 13 quoted
Andrzej Haluch
as saying that the third CD of Rafał Blechacz from Deutsche Grammophon, which contains two piano concertos by Chopin will be made public on October 17 this year, the anniversary of the death of the composer.
Andrzej Haluch's office (Warsaw Artists Management Ltd.)
Express Bydgoski (Polish)
(excerpt from Express Bydgoski)
Cały czas Chopin
Rafał Blechacz, czyli nasz nakielsko-bydgoski skarb. Chłopak przez prawie 150 dni w roku jest poza domem. Reklamuje siebie i Chopina przed międzynarodową widownią. - Pan Rafał nagrywa właśnie trzecią płytę dla Deutsche Grammophon. Na krążku pojawią się dwa koncerty fortepianowe Chopina. Dzieło zostanie zaprezentowane w rocznicę śmierci kompozytora, 17 października - mówi Andrzej Haluch, impresario artysty. - Poza tym trwają przygotowania do tournée po Niemczech. Natomiast rok 2010 będzie Rokiem Chopina, w związku z tym pan Rafał ma zaplanowane 40 koncertów na całym świecie. Na pierwszy rzut oka wydaje się, że to niewielka liczba, ale dodajmy do tego dojazdy, próby z orkiestrą. To ponad 150 dni w roku poza domem.
Dodajmy, że mimo tak napiętego grafiku, Rafał Blechacz ma jeszcze czas na naukę. Jest doktorantem na filozofii UMK w Toruniu.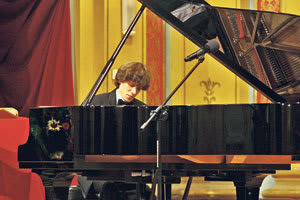 (English)
All the time, Chopin
Rafał Blechacz, our treasure in Nakło-Bydgoszcz. The young man is away from home for almost 150 days a year. He makes himself and Chopin appealing to the international audience.
"Mr. Rafał Blechacz is about to record the third album for Deutsche Grammophon. On the disc there are two Chopin piano concertos. The work will be presented on the anniversary of the composer's death, 17 October", says Andrzej Haluch, impresario (manager) of the artist.
"Besides, there are preparations for the tour in Germany (in October).
On the other hand, 2010 will be the year of Chopin and in relation to that, Mr. Rafał Blechacz has scheduled 40 concerts around the world. At first glance, it appears a small number, but add time for traveling, rehearsals with the orchestra. He is away from home for over 150 days a year".
Note that despite the tight schedule, Rafał Blechacz still sets aside time to learn. He is a student for doctoral thesis of philosophy at the UMK (Uniwersytet Mikołaja Kopernika , Nicolaus Copernicus University), Toruń.
---------------------------
Please note that this is what his manager talked to the local newspaper in Poland.
It may not apply to other countries.
Remember that the launch date of his 2nd CD "sonatas" differed largely among markets.