Gazeta Wyborcza.pl on May 31, 2009 quoted Katolicka Agencja Informacyjna reporting
that Rafał Blechacz played a renovated organ at local church.
Original article (Polish)
Łochowo: Rafał Blechacz played a concert on the restored organ
.
The world-renowned Polish pianist Rafał Blechacz appeared today for an organ concert
in
St. Kazimierz Church in Łochowo.
With the restored organ by Wilhelm Sauer he played works by Bach, Schubert and Schumann.
The artist comes from Nakło nad Notecią, about a dozen kilometers away.
The instrument underwent a major renovation since August of last year.
It was built by the protestant community in 1900, and then placed in the temple.
When Archbishop Henryk Muszynski consecrated church in 2002, he encouraged hosts to take up the work of conservation of the organ
- says Fr. Janusz Sawicki of St. Kazimierz Church in Łochowo.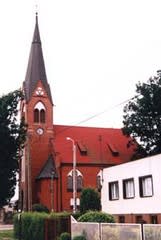 St. Kazimierz Church in Łochowo
The work was made possible through the support of numerous sponsors and the faithful.
After the renewal of an instrument - the cost of renovation was 150 thousand PLN - the idea of organizing concerts emerged.
"We want the instrument to be used, and the people to be able to learn about the beauty of music.
When I suggested a meeting with Rafał Blechacz, it was gladly welcomed.
He is an exceptional man and I think it will be a very great experience for each of us", said Fr. Sawicki.
The artist himself said that after the victory in Chopin Competition, his life drastically changed.
He wanted to play and hold concerts for people throughout the world.
Today the wish is met.
Rafał Blechacz added that a strong foundation and point of reference to everyday life is faith in the God.
"This is very help in my life. Particularly in times when it is not easy", he confessed.
Blechacz stressed that fascination for music started with the organ, when going to church and listening to it.
"Usually I'm in the parish church in Nakło nad Notecią, Saint Lawrence's Church.
Even now when the piano is my biggest passion, I'm willing to sit down and play, especially the works of Bach.
It is in some way an assist in the pianistic interpretation.
The restored instrument in Łochowo makes even the most delicate voice heard",
pointed out the famous pianist.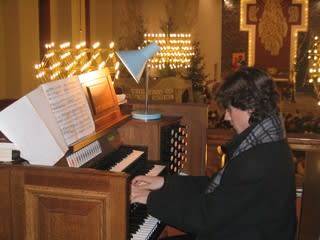 Bydgoszcz in Jan. 2007 (not the church of this article)
Polish Radio reported the same article on June 3 (English).