Interview with
Liviu Prunaru
, one of the concertmasters of Koninklijk Concertgebouworkest (KCO): Royal Concertgebouw Orchestra (RCO) inserted in the program booklet of RCO for their Japan tour in November 2008.
Rafał Blechacz will perform two piano concertos by Chopin with RCO at Amsterdam Concertgebouw next week.
It will be recorded and released as his third CD from DG.
The recording session will include a live concert at Concertgebouw on July 2.
----------------------------------------
For me, the sound of RCO is a mystery.
Interviewer: Masayoshi Iwashita, music critic & scholar of German literature
(Excerpt)
Q: How long have you been playing for RCO as a concertmaster?
A: Two years. Before, I used to teach in Switzerland and play as a soloist. I have lived in Switzerland for 18 years.
Q: You joined the orchestra for the first time as a concertmaster of RCO. I have the impression that RCO has a unique sound. How do you describe the sound?
A: For me, RCO's sound is a mystery. It is something that cannot be logically explained. It's said that the sound has been fostered by conductors and some concertmasters. Furthermore, it could be related to the hall where RCO performs. I'm talking about the Concertgebouw. The hall's acoustics creates extremely special sound, which remains in the hearts of the members. Even going to other countries, the members remember the sound, pulling it out from the depth of their ears. First and foremost, I believe that the hall has influences on us a lot when creating the sound.
Q: Does RCO have a secret to produce a sound for specific pieces?
A: If I can tell something, it is the "unity". It can only be expressed in the one word. Unlike other orchestras, RCO's members frankly talk to each other. We spend time for discussion to try to find the way to demonstrate the best of our orchestra. Each of all the members listens to sounds of others; you listen cautiously to another member next to you, another instruments and another sections. This culminates in the unity to help create the original sound.
Q: Do the tradition and history of the orchestra support the unity?
A: I cannot simply say that it is done by our tradition. RCO has a long history and it has been going through various times. Focal points of the orchestral sounds vary among different times. If you listen to the recordings of 1950's and 60's, you will hear different sound from today. I play and lead for today's RCO. Therefore, I would like to assert that the today's sound is better.
Q: People often appreciate RCO's tradition and history. When and how are you impressed or influenced by the tradition and history?
A: I think it's related to the link between the past and today. We have many members playing for RCO for 20 to 30 years. Also we had Bernard Haitink who was a Chief Conductor for many years (Note: 1961–88, he is now Conductor Laureate of RCO.). These helped create the link, enabling the orchestra to hand down the tradition of the past over to the present. The next generation has combined new things of their time with what they received from the predecessor. I believe the cycle will continue. As I play my role as a concertmaster, I will be able to bring out something new to the orchestra; such as novel colors.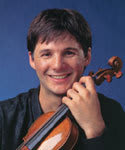 Liviu Prunaru, Romania
(But I don't know which concertmaster will be responsible for the recording.)
(The photo was taken in 1994; he is now 40.)
(Then Prunaru talks about Mariss Jansons, the Chief Conductor. He appreciates Jansons' ability to lead the orchestra as well as his wonderful personality.)
Q: Is there any change after Jansons became Chief Conductor?
(He became Chief Conductor in September 2004.)
A: I cannot answer it because I joined RCO after he became the conductor. But let me say that RCO was my favorite orchestra even before I joined. I had never thought of joining an orchestra; I joined because it was RCO's invitation. I'd listen to many recordings of RCO and I know its sound very well. Through my listening, I can say that after Jansons came, with the ideal training that I mentioned before, RCO's harmony improved dramatically. This orchestra has beautiful sound and ideas but all the merits were integrated under Jansons' leadership. Everything was well organized. Each of all parts is beautiful and they are integrated into one entity which is breathtakingly wonderful. Furthermore, it is rightly supported by the awareness of form. He doesn't let us disorderly spill out. He manages to keep us in the form. For example, when playing baroque music, we don't use too much vibratos, finely keeping dynamics to preserve the style. Everything is well organized.
(Finally, he talks about halls and audience in Japan. He says that RCO members have the ability to flexibly adjust the sound depending on the different halls. They change the way to play in all the concert halls to create the best possible sound there.)
Interviewed in Sept.2008, in Lucerne.
----------------------------------------
Yesterday I listened to the webcast of
Blechacz's recital
in Belgium in Sept. 2007 by Radio 4 of the Netherlands. The radio program included orchestral pieces by Schubert and Beethoven performed by RCO.
The sophisticated, lucid, elegant and urbanized sound reminded me of the concert by RCO that I attended last year at Yokohama Minato-mirai Hall.
The orchestra's sound was so beautiful that I could not believe that I was in the Yokohama Minato-mirai.
The entire audience was so impressed that they didn't stop applauding even after the program finished and all the orchestra members left the stage. Finally, Jansons returned back to the stage to thank the audience.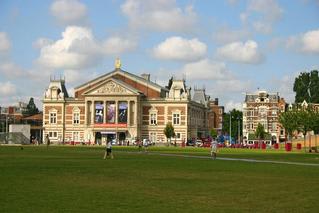 Concertgebouw in Amsterdam
I'm very pleased that Rafał Blechacz will collaborate with such a wonderful orchestra again.
In his recent interview,
Blechacz talks about RCO.
:
"... I chose my favorite Concertgebouw Orchestra of Amsterdam.
This orchestra has a unique color and velvet sound, not harsh, not matt, just perfect for concertos of Chopin.
Musicians have excellent sense of wavering rhythm in Chopin to feel without words,
and very flexible to respond to the pianist.
I hope that it will be a beautiful adventure.
Furthermore, the conductor will be Jerzy Semkow, with whom I always wanted to play.
So I will realize another dream".
The concert at Amsterdam Concertgebouw (2037 seats) on
July 2 has been fully booked for several weeks,
according to a fan in Holland.
Rafał Blechacz is leaving for Amsterdam on Friday and will begin preparation for the recording on Saturday.