From my archive
Interview Rafał Blechacz gave in
January 2006
during his stay in Japan for Chopin Competition gala concert.
(The interview was held
3.5 years ago
;
while some contents are outdated, I feel he remains the same in the fundamental character.)
Original interview (Polish)
English (machine-translated)
The English is understandable but let me pick up the answers that I think are interesting.
(Excerpt)
I started by Bach.
Q: Has anything surprised you in Japan?
A: During the competition in Hamamatsu, between successive stages, I had some free time and went out. Suddenly I saw the monument of Chopin exactly the same as (the one in Warsaw) from the bathroom, which looked identical but slightly smaller. I felt like in Poland.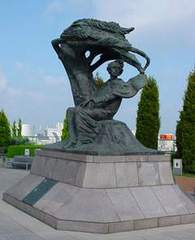 Statue of Chopin viewable from the hotel Blechacz stayed
for the 2003 Hamamatsu competition
Q: How is your normal day when you're at home?
A: I have to impose on me certain rigorousess, because after the competition, a lot of responsibilities fell on me, such as preparation for new works for the specified dates, which I could not cope with if I was not well-organized. Up quite early. Then, gymnastics and breakfast. Then sit down at the piano and practice for a couple of hours before lunch. Then again, practice. In the morning I develop new works, because my mind is fresh and better. In the afternoon or evening I'm back for works that I already know and are awaiting me in the concerts.
Q: How do you remember works?
A: This happens automatically. If I play a piece a lot of times daily and systematically, a moment comes when I do I reserve the notes and play from memory. I remember notes visually and how to play them, then I have it before the eyes.
Q: Your name is now inextricably linked to the music of Chopin. On your debut disc, however, you recorded only one piece by Chopin - Polonaise in A flat major, but after compositions by Schumann, Liszt, Debussy and Szymanowski. Did you choose so?
A: Yes, it was my choice. The album was generated with a view to creating a musical portrait, showing the wide repertoire. Debussy and Szymanowski are my favorite composers. Schumann of course, too. It was good that recording of the album coincided with the preparations for the Chopin Competition. I was forced to withdraw for a short period from Chopin's works and deal with different music. This steppingstone gave me a better insight into his work.
Q: The most renowned composers for you, in addition to already mentioned,...
A: Frederic Chopin, Maurice Ravel, John Sebastian Bach, because I started by Bach.
Q: "Start by Bach (Zacznij od Bacha)." Do you know this song?
A: Yes, it's the song of
Zbigniew Wodecki
.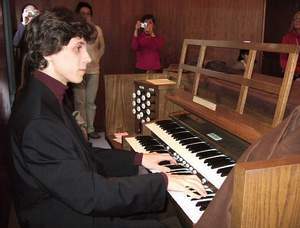 Q: What in fact do you mean by "starting by Bach"?
A: All, in relation to playing the piano, beginning properly with Karl Czerny etudes and works of Bach, which teaches logical orderly thinking.
Q: Starting from Bach and attaining the championship in playing Chopin. Is it necessary to know life of Chopin as a pianist?
A: Yes, it certainly helps. This gives an idea of Chopin, the times in which he lived. It was a very turbulent period of our history. We Poles are lucky in that the places where Chopin stayed are easily accessible to us. I see the Japanese pianists who come to Warsaw to study, observing and absorbing Chopin's climate. For them it is very important.
Q: But we prefer that you play Chopin's later works, although you have not yet been to France, right?
A: Well, it is something you can read about it. For example, a publication containing Chopin's letters to the students. Chopin sent them invaluable tips on how to play his pieces.
Q: Which correspondence do you remember?
A: In a letter to one of the students, Chopin wrote about the second part of the piano Concerto in F minor, that all the fast passages should be done with great precision, lightness and finesse.
Q: Do you use these tips? Concerto in F minor exists in front of you.
A: Of course. I have already started practicing the concerto. I have to prepare it for June.
Q: Which pianists is closest to you?
A: Krystian Zimerman.
Q: Do you had the opportunity to meet him personally? At the 15th Chopin Competition you received the award for best performance of the Sonata founded by him.
A: I met Krystian Zimerman in March 2005, as he was in Katowice to receive honorary doctor's degree from local Music Academy. On the next day, he held open classes with students in which I participated. This was a very interesting experience.
Q: What is your dream now?
A: So far, my dream was to win the Chopin Competition. And now I would like to make the best use of opportunities that the competition created to me; that is very well presented for debut, waiting for me in the future in major concert halls, to be invited there again.