Why do you play Music?
From my archive, this is an excerpt from an essay including interview with Rafał Blechacz
written by Takaakira Aosawa.
Published by Ongaku-no-tomo (music friend), May 2007 issue.
Interview took place during Blechacz's tour in Japan for all Chopin program in autumn 2006.
Therefore, questions were typically related to Chopin.
(Excerpt)
In the life of young musician, where does he find the world that he cannot have only with music?
"I need time to rest. Not fixing my eyes on piano, listening to CDs of other music, watching TV, reading and walking. Of course my day-to-day life is deeply involved in playing Chopin and the distinction is blurred sometimes. After playing concerts consecutively, I need time doing nothing".
Isn't it difficult to strike a balance between the journey to the past unique to each piece of music
and spending time for his own life?
"Sharing a worldview of various musicians gives you the opportunity to be distant away from the gray part of day-to-day life, something that is not so interesting, although it is too much to call it escapism. When immersed in different music – the world of Chopin, the world of Mozart or the world of impressionists, I'm left apart form the daily routine. Sometimes, however, I can get inspiration from daily life".
Then I asked him if he occasionally feels in everyday life escaping from artistic world, descending from the mountain.
"I think now I'm in a situation where I have a good balance. I don't have to escape from music to daily life",
I think Chopin will remain quite important for Blechacz. I wonder how he is going to dig into the dark side of human emotions of Chopin music. The sentiment of deep isolation which is sometimes unhealthy; the aspect describing murky, gruesome side of human soul. My impression is that Blechacz has not yet devoted himself to reach this realm of Chopin music. How should a musician of today, grown up happily, meet a composer of unhappy era with artistic imagination? It's a kind of serious issue for today's musicians who live in totally different age from previous centuries. Chopin's life and era were difficult. When playing his music, does Blechacz, as a compatriot interpreter, feel that he bridges the two different times?
"Chopin lived in a different age and it affects a lot. The political situation was different; Poland was not independent nation but occupied, which affected greatly his characteristic. But I also think that Chopin lived a happy life in his boyhood. He lived with family, blessed with friends in Warsaw and kept contacts with other countries. I suppose that the most difficult time was when he decided to leave Poland. If I talk about myself, I'm happy, I live with parents and sister. I didn't have difficult experience so I think I'm different from Chopin. But when Chopin was young he was happy and so am I and it's something common (laughing). While you feel happiness in his works of early years, the dark and daunting sides appear in the works of later years. He expresses nostalgia, yearning for home".
Remorse of ruined person; regret losing what he should have kept; a deep-seated grudge. This artist was destined to misfortunes. But when I listen to Blechacz, first of all, I'm struck by the pure, clean and beautiful interpretation.
"Artists have higher sensitivity than ordinary people. Internally we are affected by an experience several times stronger. This sensitivity helps us doing creation. I suppose that characteristics of Chopin was polyhedric. Therefore, he expressed multiple aspects of his nature in his works. What I'm supposed to do as an interpreter is first of all understanding Chopin himself and his life in order to express Chopin's view of the world through my self".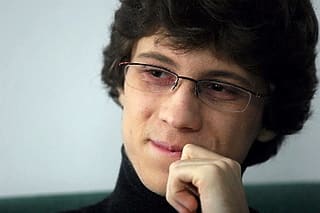 How do you feel the idea that unhappiness can create art? I don't like it.
"Hardship may help when accepting and elaborating music work. But it doesn't mean that you cannot express without going through difficult experience. As an artist, I can use my imagination. I empathize with things that I have no experience and describe them through imagination. I believe this is more important for an artist".
But I think that Chopin's works are his epitome. So the performer must undertake Chopin's life when replaying such works.
"Yes, typically Chopin's life is represented in Mazurkas in a condensed manner. For Chopin, music was a way to escape from the real life. He regarded music as savior. He therefore sat in front of piano when he had hard time, playing and thinking. I think he expressed the sufferings in notes".
Chopin music and "żal"
From an aspect of Polish music, Chopin's works are characterized by music for ethnic dance. Another thing is that there is a Polish word "żal" (noun), which seems to describe a nature unique to Poles. I've heard that "żal" means grudge, loneliness, sorrow and intensity – gloomy feelings closer to bitterness rather than nostalgia. Is this about the true aspect of Chopin music that only the Poles can understand?
"If I describe Chopin music in a word, I think "żal" will exactly convey the nuance. You must abandon your country. You are in a situation in which you cannot grow further as an artist if you remain in Poland. Furthermore, you are torn apart from your family…Such experiences brought you pent-up feelings. This is the feelings that Chopin and many other Poles had in those days. You cannot live in your beloved country. You cannot stay with your loved ones. Poland was not independent as a nation, which caused the special feelings in people's mind close to frustration or feelings between grudge and frustration. Actually there were many artists – poets and writers who created similar works as Chopin. As a Polish, I try hard to express such feelings peculiar to us through Chopin music".
My hope is that Blehcacz will live a happy life as human and live as a musician who can express the somber feelings, integral part of Chopin music. I sincerely hope that these two will be compatible for him. Performers of today are faced with different kinds of difficulties than musicians and artists had in the past. Where does Blechacz find such a difficulty?
"Today we have different problems from the past. We see a new problem emerging that was not perceived so far. It can be said that there are always problems and obstacles facing us although how and when it happens is different. It's universal truth."
As a Polish pianist
He says that he respects such predecessors as Paderewski, Rubinstein and Zimerman. I asked him how he feels about Rafał Blechacz as pianist and he laughed, saying,
"It's difficult to talk about myself".
"I'm very much honored to be in the list of laureates of Chopin competition, a part of the brilliant history. I'm still at the preamble of my career and I think I should continue to learn".
in Nagano, Japan
June, 2007
He had a piano at home and he used to play it since his infancy. As he continued, he found it comfortable to play piano and felt it meaningful to play it.
In other words, did you feel that you were loved by the piano?- I asked him.
The fact was that I loved piano. It was probably more important,
he answered.
He also loves playing organ that he began at the age of four. But what he really wants has always been playing piano. When he was 12 or 13 years old, he composed some pieces for piano and organ. If a new idea pops up in heart, he may possibly do composition again. The young music enthusiast was given opportunities to go out to the world stage by winning at Hamamatsu and Chopin competitions. What did such events bring to him?
"As a rule of the competition, I had to compete. I don't like competing with someone and probably it suffered me. It was stressful to go through the three-week schedule but I didn't feel that I had lost something although I had to pay a price. There was a creeping danger soon after the competition. I tried not to be swallowed by the swirling repercussions of the competition. Initially I was troubled and many things were unknown. Now, however, I have a person managing these things and the dust is settled. I have Zimerman kindly supporting me via phone calls, giving me advices. I can count on him anytime. So I was able to shift gear".
Is there any time that he feels imposed the spell as "Chopin specialist"? If I remember it correctly, Zimerman had time to try to avoid being labeled Chopin specialist for some years.
"As Pollini, Argerich and Zimerman did, I believe that it is necessary to work on music of other composers in order to play Chopin in more full-fledged manner rather than devoting myself to Chopin music only".
And I asked if he likes football, and he said
that he likes watching the game.
For the members of Polish national team, the time eventually will come to take off the uniform, but for you Mr. Blechacz, such a day might not come…
"Of course, I will be a Polish pianist for life. But music is universal, common to everyone in the world. So probably which country you belong to might not be so significant (compared to football)".
Discover inner self in music work
The exquisite and delicate way of expressions built by the solid technique creates transparent and pure sounds. The approach to be humble and get close to each work is favorable.
"I always try hard to sincerely convey a worldview of composers. I'm glad that you see my performance like that".
How does Blechacz think of the individuality of performers?
"Unlike Frederic Chopin who composed and performed, I devote myself to playing. My role is to reproduce the worldview of the composer. But not limited to performing, I should also be creative. When dealing with Chopin's works, I superimpose my emotions as a filter on top of his works. It is very important to discover my inner self in Chopin's work. With technique and essential quality as pianist, I should establish a situation where I can add my own self to Chopin's world. It is actually the most difficult challenge for me. If I find Chopin deep inside myself, then I believe it is my individuality".
The audience is on board the ship called Blechacz to navigate across the sea of Chopin. How does the audience affect him in playing?
"It doesn't make sense to play piano if there is no audience. I have no choice but to be influenced by them. The interchanges and contacts with the audience are quite important. I should not forget the awareness that I play for such occasions. My role for those who listen to my music is to guide them more effectively through the world of music".
If your life as a musician is a book, which chapter are you navigating now?
"Hum, I don't know. Hopefully I want to be at earlier chapter rather than end part".
What is the most fascinating thing that music only can do?
"The most favorite thing about music is that there is no language. Music gives me a tool to convey all the messages only with sounds. The performer is on par with the composer when elaborating his world. What I can communicate in this wordless world is significant".
(Note: The original Japanese text in this part is not clear.)
Cover of music monthly "Chopin", Oct.2006
(different magazine from this article)
Music is my life.
What brought you to perform classical music?
"Classical music fits well with my personality. I'm rather quiet. Since I was young, I've felt more comfortable when I'm with classical music. I think it is because of my nature".
By the way, for you, who is Rafał Blechacz?
"Well, he is a pianist."
How is it if he is your friend?
"He is an artist, and an ordinary person. He is common, wants to have time to relax".
Music, life and time; what does each of them mean for him?
"Among other things, music is my life. Music is the best tool to express myself. As for the passage of time, I feel that time passes most smoothly when I play music".
If there is another Rafał Blechacz, when did he live for what?
"Perhaps I would play organ music mainly such as Bach regardless of the time. If I had been born in the days of Chopin, I could have been his student".
Student? Not his teacher?
"Of course I am his student".
.
He modestly smiled and I asked him the most favorite word. The answer was
"music"
as I expected. Wherever he goes, the pure music always smiles at him. I would like to enjoy the peaceful atmosphere for a long time.
(end of the article)