Rafał Blechacz new CD "Chopin The Piano Concertos" (Import edition from Europe)
will be available in Japan on September 30.
出荷日は予約時期によって変動するそうです。
HMV Japan site
←Book now and the CD will be delivered on September 30.
Related news from HMV (Japanese)
Tower Record Japan
←Book now and the CD will be delivered on October 9.
"
Blechacz's way of Chopin Concertos nos. 1 & 2, live!
with Concertgebouw Orchestra under Semkow
- Young virtuoso Rafał Blechacz exerts his fresh sensitivity to render supreme melodious beauty.
Heralding Chopin's 200th birthday in 2010, Rafał Blechacz, the winner of 2005 Chopin International Piano Competition, young master often reputed as the reincarnation of Fryderyk Chopin
has recorded two piano concertos by Chopin collaborating with the Royal Concertgebouw Orchestra
under the baton of Polish veteran Jerzy Semkow.
It is the first part of our series for the commemorable year.
The young, sparkling sense with full-hearted devotion
gets to the heart of the extremely exquisite and lyrical concertos by Chopin,
giving us a once-in-a-lifetime experience of the live performance.
(Commented by Universal Music, IMS)"
↑ Note: Universal Music Japan has not yet announced the release.
Delivery dates announced in these sites are subject to change.
So far, there is no news about the launch date of Japanese domestic edition.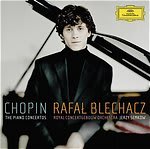 See Deutsche Grammophon site