Deutsche Grammophon says that Rafał Blechacz's new CD "Chopin The Piano Concertos"
will be released on October 5 internationally.
DG site "Chopin Rafał Blechacz The Piano Concertos"
International release is Oct. 5 - DG
Catalogue page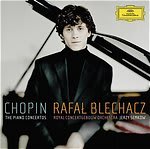 "Chopin The Piano Concertos Rafał Blechacz"
"Rafał Blechacz makes an astounding orchestral recording debut with Chopin's Piano Concertos nos. 1 & 2
Pianist Rafał Blechacz, returning to his beloved Chopin, teams up with the supreme musicianship of the Concertgebouw Orchestra under conducting legend, Jerzy Semkow.
After Rafał's hugely successful Deutsche Grammophon debut Chopin recording – almost 60,000 sold worldwide – music lovers await the unique interpretive contributions this winner of the 2005 International Chopin Competition will make to these two legendary concertos.
This is for sure: Rafał's way with Concertos nos. 1 & 2 will be a landmark recording of this highly emotional, popular, and poetic music – a young master heralding Chopin's 200th birthday in 2010 with an early birthday gift we all will love."
Poland September 18 ??
Polish Radio
Germany October 2 (Amazon)