(3rd posting as of July 4 at 3:40 am CEST)
Trouw, Amsterdam based newspaper posted a review by Peter van der Linton on the concert
at Concertgebouw on July 2,
when Rafał Blechacz performed Chopin's two concertos with RCO directed by Jerzy Semkow.
He praised Blechacz by saying,
"Blechacz's inner musicality was unprecedented here to the imagination.
And the virtuosity was not hollow".
Original review (Dutch)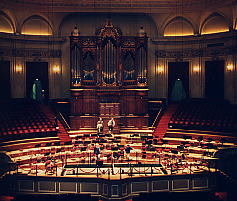 Old and young Poles grant their compatriot Chopin depth
Royal Concertgebouw Orchestra, Rafal Blechacz (piano) led Jerzy Semkow in Robeco Summer Concerts
on July 2 at Amsterdam Concertgebouw.
The very young Polish pianist Rafal Blechacz (24) and the experienced Polish conductor Jerzy Semkow (81)
met Thursday with the Royal Concertgebouw Orchestra.
Semkow debuted there.
They brought the two piano concerts by their compatriot Chopin and gave an incredible depth.
A one-time concert by the Royal Concertgebouw Orchestra with piano phenomenon Blechacz.
The expensive one-off meeting where so many artistic classes should be seen in the light of CD recordings.
Today engineers of Deutsche Grammophon finalize the recording to be on the shelf for 2010 Chopin Year.
For RCO it will mean that for the first time in five years since the departure of Riccardo Chailly
(who has exclusive contract with Decca for Leipzig)
in the Concertgebouw again an official CD recording is made.
With the advent of Chailly's successor, Mariss Jansons, RCO established its own label (RCO Live)
which mainly releases live CDs.
Despite their large age difference, Semkow and Blechacz miraculously fit nicely together.
Symbiotic music as you rarely find.
In both there is no trace of vain showmanship.
Everything is at the service of the music that they have hands over.
In Semkow you might expect it, given his record of services.
But for someone from the age of Blechacz, it is surprising.
In 2005 at age of 20, the Pole won the Chopin Piano Competition in Warsaw, which was of course not for nothing.
Winners in Warsaw are almost always special talents.
His appearance in 2007 in the series Master pianists elicited superlatives by the written press.
(=the press admired him.)
And today was how this young man in a suit boo big can cast a spell on the packed audience in the big hall
with his superlatives performance.
His innate reticence does not mean that he doesn't have a presence.
In both Chopin concertos he expressed his own stamp on the event.
Semkow let his piano joined by the beautiful playing by RCO (horns and bassoons!) to Blechacz's wishes.
Chopin's slow parts were sung by Blechacz as he produced languishing sigh of a character
from an opera by Bellini or Donizetti - very popular in 1830.
Blechacz's inner musicality was unprecedented here to the imagination.
And the virtuosity was not hollow. Into the Chopin year!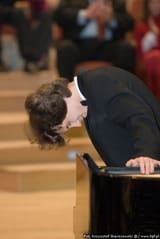 Review on Blechacz's debut at Master pianists 2007 by Trouw (7th from the top)
Blechacz's next appearance at Master pianists @Concertgebouw will be May 9, 2010
Program
Please see P.21 and P.32