The interview that Rafał Blechacz gave to Polish Radio 1, which was broadcast on July 12.
At initial part of the interview, Rafał Blechacz talks about his recent recording of two piano concertos by Chopin collaborating with Royal Concertgebouw Orchestra directed by Maestro Jerzy Semkow.
He admires the "silky sound" of RCO and expressed his pleasure to play with them.
The summarized English excerpt has been provided by Dana, one of those music lovers who truly appreciate the beauty of playing by the young master.
My heartfelt thanks go to Dana for the big contribution.
-----------------------------------------------------------------------
Listen to the interview
.
AR: Adam Rozlach, interviewer
RB: Rafał Blechacz
AR. Today in our program "Galeria Muzyków Polskich" (Gallery of Polish Musicians) Rafał Blechacz, a pianist, who successively conquers concert halls all over the world, enchants everybody with his piano, his naturalness, musicality and warmth not only in his interpretations of Chopin. I welcome you, dear Rafał very warmly in the name of our listeners. Good evening.
RB. Good evening.
AR. A short time, but full of music in spite of holiday period.
RB. For the past three years I've played for festivals or recordings during holidays. By a strange set of circumstances I recorded all my CD's in July. The first week of July I recorded two concertos by Chopin in Amsterdam and played them in public last Thursday. But now I will have some time for rest and even short holidays.
The idea of recording the both concertos appeared in DG very early, even before "Preludia". For me and DG it was very important to realize this idea and record those concertos with an orchestra and a conductor with whom I would feel comfortable and understand. I have played for about four years with different orchestras and conductors and have observed them attentively, how they feel and play Chopin's music. I am grateful to DG for the possibility to choose the orchestra, the conductor and the concert hall that I wanted.
AR. How did you decide about your choice of J.Semkow and RCO?
RB. The first contact I had with RCO was a year ago in September. I played a concerto by Saint-Saëns and I discovered then already that this orchestra is very good for Chopin's concertos. At the beginning I was fascinated by their soft sound, timber, that I call "silky sound". It is simply unbelievable when you hear this orchestra.
AR K.Zimerman said to me there are numerous Stradivarius' instruments in this orchestra. Perhaps this is the reason?
RB. Yes it is true, beautiful violins. The timbre of the sound of the instruments is not "harsh" or "loud" but it is not "matt" either. I admired the wind instruments. These little fragments especially in the first movements of the concertos, where you can hear such a beautiful sound of French horn and bassoon, their interpretations were small masterpieces. It was a big pleasure for me to play with this orchestra.
AR. Usually those small fragments are in the farther background, they are not "exposed".
RB. Yes, sometimes they are in the farther background but while played by RCO even the tiniest fragment is heard, has its own dramaturgy, timbre and taste. They were beautifully synchronized with my piano part, which is demanding for the orchestra, the conductor and the soloist. This is due to the rubato and agogic changes. Playing this part was for me a true pleasure and great fun every time. I have noticed that while performing the Saint-Saëns concerto, full of "turbulences" in the tempo, changes in timber, plenty of virtuosity also in the part of the orchestra. The musicians from RCO proved their elasticity. That's why we decided to choose this orchestra. I have met Jerzy Semkow several times to discus and perform rehearsals in order to prepare the recording of those concertos. Our next meeting was then in Amsterdam.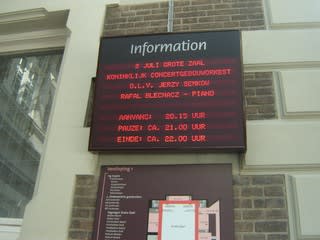 Inside of Concertgebouw at Information, July 2, 2009
when Blechacz, RCO gave a live concert.
(Courtesy Dana)
------------------------------------------------------------------
This part of the interview (audio) is available from
the archive of Polish Radio 1
where you can hear about a half of the interview.
Recorded @ Artur Rubinstein Suite of Hotel POD ORLEM, Bydgoszcz
AR: I was very surprised with your choice of Jerzy Semkow. Please explain it with some more details, how to combine his majesty with Chopin music. Jerzy Semkow is rather known for his interpretations of "serious" great works like those by Beethoven, Brahms, Rachmaninov.
RB: His majesty was visible in the first movements of both concertos...
AR: "Allegro maestoso "?...(both are laughing)
RB: Yes, but when it comes to the second movements and those founded on dance rhythms in the third we played them lightly in order to show their dancing character and not only the empty virtuosity.
Semkow won an enormous respect of the orchestra. They understood him perfectly and respected all his ideas, suggestions and remarks. He was a very good choice because Semkow gave the orchestra the opportunity to play their sound up to the end. His approach to Chopin's structure was very symphonic but on the other hand in the second movements which have very personal character he was very sensitive to my piano part, which made me feel very comfortable.
During our meetings before the recording he was taking detailed notes in the score of all my ideas even those concerning all little acceleration or slowing down that I use to do when I play. Of course you can't foresee everything. You need to have some freedom as well. Many things also depend on the hall, the ambience, acoustics.
AR: What interpretations of Jerzy Semkow have you heard? What drove you to make the choice?
RB: I heard his interpretations of Beethoven, Brahms, Rachmaninov for example. I was impressed by his charisma. When I saw him conducting and observed him during the rehearsals talking to the orchestra I was amazed by his ideas. This is why I decided to record Chopin's concertos with him.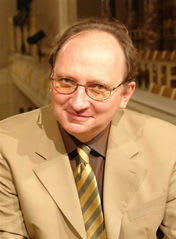 Adam Rozlach, the interviewer
AR: Recently you celebrated your 24th birthday?
RB: Yes. We started the first recording session on the day of my birthday. It was really incredible because someone informed the orchestra of that, and they gave me a triumphal welcome with fanfares.
AR: Didn't they play "Sto lat"? **
RB: I don't think they know it. (Both are laughing)
AR: I am very impressed, that a young man like you, wants to learn from the experience of our greatest and oldest artist. Semkow is a conductor with a very strong personality.
RB: Sometimes a single and small movement of his hand or just one look at the instrument let everybody know what his intention was, what he wanted to say; sometimes a serious face but also a lot of smiles when we played the third movement. The orchestra liked all our Polish folklore parts a lot, especially in the F minor concerto.
AR: Was there also video recording?
RB: DG filmed the rehearsal, so perhaps they will show it soon mostly for marketing purposes.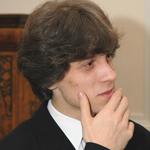 AR: The third element-the concert hall.
RB: The acoustics of Concertgebouw is incredible - when the hall is empty as well as full.
You can hear absolutely every instrument of the orchestra, and building this dialog with instruments is an enormous pleasure. There is also the visual aspect of this hall, which gives a good ambiance, and has a positive influence on musicians, artist who perform there.
AR: You took the challenge to record Chopin's concertos in a special time and place. There are many fantastic recordings of both of these works, it is a world tradition, and in this constellation there is also a place for you, a place well deserved with your triumph on the XV Chopin Competition. During the last 4 years you proved to everybody that Chopin means a lot to you. You certainly remember the recording the same concertos made by Krystian Zimerman. What pushed you to take this challenge and responsibility?
RB: Of course. The responsibility is always there every time when I play in public or make recording. The beautiful recordings of Rubinstein or Zimerman are the icons of Chopin style and inspire all artists who want to create their own vision of this works, sometimes to introduce something new to this music. What was the most important to me was the humility, the naturalness, the sincerity and the simplicity which are present in this music.
The beautiful emotions which are in this concertos, all this richness of different ambience, character I wanted to show all this, deeply lived in order to make of it a result of my own experiences, experiences which are present in everybody's life. I wanted to make it real and sincere.
They are also the result of my 4 years spent together with them.
** "Sto lat" in literal translation "100 years" is a traditional Polish song played and sung for birthday.
AR: We have a recording of your Chopin's concerto in E-minor from XV Chopin Competition. Which fragment of it would you like to propose to listeners?
RB: The last bars, when the audience started to clap their hands, it was for me amazing and unforgettable moment. But I think that the beginning of the rondo deserves attention as our Polish dance has such a "dancing" character.
AR: Dear Rafał, we don't have choice, we need to play now the third movement of this concerto.
(Third movement)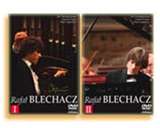 DVDs from Competition
AR; It was fantastic. Do you come back sometimes to your memories from the competition or do you rather look forward to the future?
RB: I rather look forward but sometimes those memories are coming back naturally. My sister likes it, parents too to talk about the final of the competition, for all of my family it was a very important moment. Sometimes we watch the recording of my final performance. We have DVD too. It was a beautiful experience.
AR: For us it was also a very important moment, so I can understand how much it was to your loved ones who are always at your side.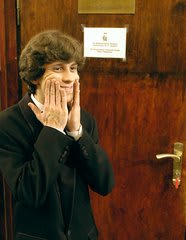 Before the verdict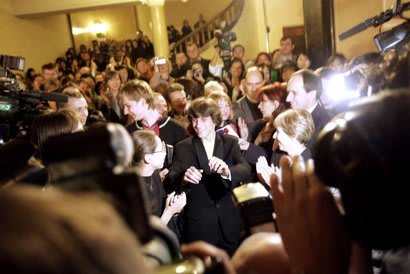 After the verdict with his family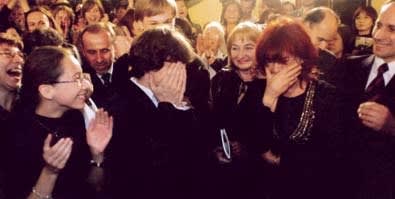 With his teacher, those who love him.
RB: We often travel together. Now in Amsterdam all my family members were present. My sister finished her school year so there was no problem.
We spent together a wonderful time. Amsterdam is a very interesting city, there are so many museums and places to see. It always makes you feel more comfortable when you have a support from your family.
Sometimes there are stressful situations, but this is a part of life of every artist. I think it is important to have one of your loved ones near to you, with whom you can talk about many different matters, not only about music.
AR: And you don't come to an empty hotel room...
RB: This is sad... Many artists say that this loneliness is very difficult for them. But all the pianists I usually meet, as well as conductors always travel with one of their beloved.
AR: How do you prepare your repertoire? What is the proportion of Chopin music in it?
RB: I prepare the program of my recitals in a way to present works of many different composers in the first part. In the second part I play Chopin. I will act in the same way in 2010 - the year of Chopin. Together with his music I will also play Bach, Mozart, Debussy.
Those composers are my favorites from the beginning. Debussy because of the colours of his music, Bach because of my fascination for organ music and all classical music important for Chopin himself.
AR: You play "Passepied" from Debussy suite "Bergamasque" in such a fantastic way. You are able to build from this miniature true masterpiece; it has incredibly sublimate form and such a divine lightness, doesn't it?
RB: Debussy's music has a kind of special classical character, but what is also very important in case of Debussy is his extreme sensibility to the colours, which has a huge impact to the agogics of the piece. "Passepied" is a beautiful piece so is the entire "Bergamasque" suite. I love to play this suite. I recorded it on my first album before the competition, and I am almost sure that my next recordings will also include pieces from impressionist.
AR: Let's listen to "Passepied"" from the suite.
(Passepied)
AR: What about Karol Szymanowski? On this CD, you also play his music; Variations B-minor.
RB: After the competition I often played this piece in my recitals and everywhere people liked it very much. It starts with a mysterious ambiance but the final is unbelievable; many different characters, different emotions are out there. Szymanowski's works are very rich and should be presented all over the world; should be spread everywhere. Now I work on one of his compositions.
AR: When I was listening to your recital in Prague I was thinking how bloody difficult it is to play, am I right?
RB: From the "technical" point of view it is demanding but on the other hand musically, those Variations are beautifully combined together, sometimes one is naturally coming out from the other and sometimes they are founded on contrasts.
AR: Which fragment would you like to propose to our listeners?
RB: Maybe the 1st and 2nd variation.
(Variations)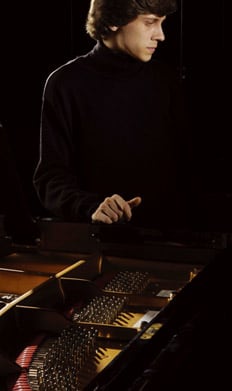 From debut CD "PIANO RECITAL"
AR: You possess, in my understanding, an incredible intuition in interpreting anything you put on the music-stand of your piano. I guess that the talent is gifted by heaven but not in entirety... What do you think? How did you manage to interpret Mozart, Haydn, Chopin with such a taste and right feeling?
RB: It grows up while an artist grows; the process lasts for a long lifetime. Studying the epoch, analyzing different styles, enriching knowledge about composers; sometimes theoretical aspects helped a lot in interpreting works.
By studying other composers I have reached Chopin, and it happens the other way round as well. All are interconnected and interdependent.
Intuition surely matters, and it is something that you are to grow, enrich and develop.
AR: I guess this is how you enchant the audience: with your freshness, fantasy, sense of music, virtuosity but also your sense of humor, especially on your last album you just enjoyed yourself with choice of the works.
RB: Indeed, there's a lot of humor there, especially in the music of Mozart, Haydn, even the pieces by Beethoven, in which we can hear the emotions that followed the writings of the composer. The same ambience was there during my recordings. To play and to interpret these masterpieces on stage, it should be performed with joy.
AR: I think "Daddy" Haydn pointed to this direction and Mozart as well as Beethoven were his pupils.
The scherzo from sonata by Beethoven is just fantastic, isn't it? It is so light!
RB: Of course, and at the same time it is so gracious, full of dance, relating to minuet. It is extremely important to match the right tempo of the piece. The nuances of humor and colour of sound then become very well.
AR: This fine articulation is truly a masterpiece. Let's listen to this part...
(Scherzo from Beethoven sonata opus 2-2)
AR: How do you plan to celebrate the 200th anniversary of Chopin's birthday?
RB: The year 2010 is going to be intensive. I perform numerous concerts in Europe, America and Japan. Three continents in one year.
I am glad that the recording of Chopin's works was done this year, as in next year I will be only giving concerts, while the album will be out.
In 2011 we celebrate the 200th anniversary of Franz Liszt's birthday. Related to that occasion are my upcoming performances. I will start in February 2011 by his piano concertos with the Philadelphia Orchestra under Charles Dutoit.
AR: I suppose we'll be shortly listening to the album with Liszt's concertos performed by Rafał Blechacz and Philadelphia Orchestra under Charles Dutoit. (←interviewer's guess)
What is your holyday plan? Zimerman who is our common friend, once said that when he decided to rest, he was back to hard work after two days.
Can't you live without work either?
RB: Working is necessary, so is taking a rest.
AR: Where are you heading for holiday?
RB: I expect I'll be in Poland, near the seashore.
AR: We wish you a pleasant vacation.
We are very proud of your achievements. We are happy you could give us some of your time.
We'll be looking forward to seeing you.
RB: Thank you very much.
-----------------------------------------------------
At the beginning of DG Promotion video produced in spring 2007,
Blechacz plays one of the concertos by Liszt, concerto in A Major

In retrospect, this video & the debut CD already heralded activities in the coming years.
Before I read Orlen's book "Rafał Blechacz" saying that in 2002-04, he appeared at the Polish Piano Festival in Słupsk, where he won the Youth Stage award, after playing Liszt's Concerto in A Major, Chopin Concerto in E Minor, Bach, Szymanowski, Debussy, etc..