(4th posting as of July 4 at 14:28 pm CEST)
The NRC, the most prestigious newspaper in Holland, published a review of the July 2 concert at Concertgebouw.
It is a review of a printed version of the newspaper that Jan, a fan of Blechacz in Holland, found.
He kindly translated the article into English for the readers of this website.
Thank you Jan for your kindness (as always). I believe it is quite informative for the readers.
----------------------------------------
Fragile Chopin playing of Blechacz
Summersilence? Not yet.
embedded in the last performences of Carmen at the Ductch Opera, the RCO is working these days on the CD of the Two Pianoconcertos of Chopin with Rafał Blechacz (1985). The orchestra and Blechacz played yesterday evening both concertos in the serie Robeco Zomerconcerten.
The former announced conducting talent Tugan Sokhiev (31) was withdrawn in an early stage. He was replaced by the Pole Jerzy Semkow (81), making a late debut at the RCO.
With justice Deutsche Grammophon is focussed on Blechacz. His former three performances in Amsterdam were miraculously beautiful. And now his Chopin playing was subtle and thrilling.
It is miraculous that Deutsche Grammophon just released a CD with the same Chopin concertos played by the superpianist Lan Lang. This makes it tempting to compare, but Blechacz is not like Lang.
Blachacz` Chopin is more Polish, not so pure "virtuoso" (nevertheless Blaechacz passage parts are impaceccable as well) but more free, intimate and poetical fragile. And his biggest trump: a very lithe, supple never vain tension in the phrasing.
Such freedom must get space, but it was not optimal the case in the Second Pianoconcerto (1829). The gestures of the conductor Semkow are too vivid and not always exact. This was the case in the Ouvertüres of Mozart: an oldfashioned sound with contrasts. This Mozart does not combine with Chopin: pianopoetry with the Turkish drum from Die Entführung is no match at all.
Does it matter? Hardly. Blechacz proved to be undisturbed by the harmoniuos somewhat massiv RCO under Semkow. In the First Pianoconcerto he showed poetry in a broad spectrum of nuances and colors. As an encore to the totally full booked Grote Zaal a walz (note: Marzurka) of Chopin sounded as: dancing and elegant and in that combination it was realy thrilling.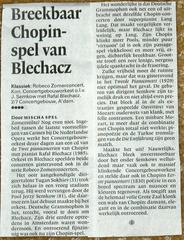 Article of NRC