I wrote about Rafał Blechacz's
interview for Wprost24
titled "Have authority over people, it is beautiful"
that is provided for a charge and cannot be posted here.
But let me say that this interview is basically the same as
the one for Netbird
that I posted before in July,
although Wprost24 goes into more detail.
My guess is that these two articles were written based on a single interview.
Let me however pick up one paragraph that is not written in Netbird's article,
which is related to the title; "Have authority over people, it is beautiful."
This paragraph comes when Blechacz talks about how he loves playing for the people.
In the context of Netbird's article, it could come after the following segment.
"The silence prevailing in the room fascinated me before I started playing.
The very silence in the room before the first touch of the keyboard is a sign of transmission of specific emotion,
which is to take place in a moment.
At that moment I am aware that I can interact with the people seated in the audience.
And in the end I am rewarded with the popular applause", Blechacz reports.
In this respect, little has changed until now.
Satisfaction by the listeners is the highest award for the musician and mobilization to improve his skills.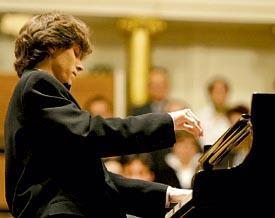 Lubi pan mieć władzę nad ludźmi?
Mieć nad ludźmi określoną władzę to jest piękne.
Zwłaszcza wówczas, gdy po koncercie podchodzą słuchacze i relacjonują, iż coś w ich wnętrzu się poruszyło.
Że w jakimś momencie poczuli mocny ścisk serca. Są to świadectwa, że koncert nie był dla nich obojętny.
Dla artysty to wielka nagroda. I zachęta.
Do you like having authority over people?
Having certain authority over the people is beautiful.
Especially at that time when after the concert listeners come and report that something inside them was moved;
or in which moments their hearts strongly felt.
This is the evidence that the concert was not insignificant for them.
For artists, it is a great prize. And encouragement.
"Having authority over people" therefore doesn't mean that Blechacz suddenly becomes a dictator;
it is about how he can inspire the audience; spiritual authority or ability, in my understanding.
**
Recently Rupert Murdoch, the media tycoon and CEO of News Corporation, declared that he will make all the websites of news published by his corporate group companies for a charge within one year.
The Times of London is one of them.
I sincerely hope that this will not be a world-wide trend.
Such an attitude on the side of media company is opposite to the direction of people's needs.