From my archive,
in relation to yesterday's video of the recording session of Preludes in 2007,
this is the interview that Rafal Blechacz gave to Piano News 06/2007 of Germany.
Original interview (German)
English (machine-translated)
The English is comfortable and good.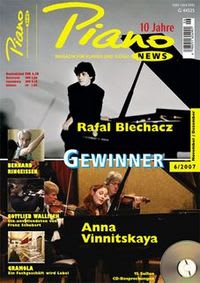 Another interview Blechacz gave to Polish Radio

(Audio-QuickTime)
(English)
after the recording of Preludes completed in Aug.2007.
Blechacz speaks in Polish and his voice is dubbed into English speaking announcer.
For me this is truly memorable content. Maybe the first content that I found on the net about Blechacz.
I thought, "Oh, my God! Is this voice of that divine boy?"
It was on his name's day.
(I happened to know Blechacz's piano on TV earlier of the year, a few months before that.
I turned on TV and saw a graceful pianist playing Chopin's sonata in B minor 1st movement.
I didn't know who he was but the beautiful sound nailed me to the spot.
Later in that year his debut recital for Masterpianist series at Amsterdam Concertgebouw was webcast via Dutch Radio4, which was for me a deciding moment.)