From Dana's archive:
A reportage broadcast in April, 2006
"Człowiek słuchu" - Man of ear (hearing) (

Audio - Polish)
Please click on "Człowiek słuchu" to hear the program.
Voices of Rafał Blechacz, his mother, his teachers, etc... can be heard.
(Excerpt that Dana selected. Thanks for that! )
Jacek Polanski;
I remember that a small boy came to me, sat by piano and began playing his arrangements of music. 
He heard what he played. 
With his little fingers he made his own legato and the sound was melodious, all falling into place of music.
I didn't need to show him a teddy bear or something else in order to tell him how soft he should play.
He was a Man of Hearing.
Ewa Staporek-Pospiech :
He always interpreted excellently music by Bach.
He was born with music inside himself.
As a teenage boy he discussed interpretations of works by Chopin like an adult.
He received books as an award.
Rafał Blechacz:
I never had a feeling that I was a child prodigy.
The more I play the happier I feel.
Rafał's mother:
He didn't like buttons in his childhood, touching buttons.
When he was six years old we had a problem.
There was his performance for public and he didn't want to put on a shirt and trousers.
So he performed in violet sport wear and tennis shoes.
We were afraid how it would be later when he gets older.
Rafał Blechacz:
Now I feel myself best in a dinner-jacket.
It became my" second skin".
I name it "work clothes" because when I go to concert to play I say that I go to work (laughing).
This promo video made in Cologne
includes some photos of Rafał in his boyhood.
Did he like violet color?
President of Poland:
It is the great moment for us, the Poles.
We've been waiting for it for 30 long years.
Today we are proud of the fact that the winner of the 15th Chopin Competition Mr. Rafał Blechacz is our countryman.
It is a big joy. Congratulations.
K.Popowa-Zydroń:
He played on what we've established, adding "something".
This "something" comes to him when the hall is full and he feels winged.
It is a fantastic moment.
I have known how he plays but this "something" has put me also in an euphoria.
President of Poland:
We thank his parents....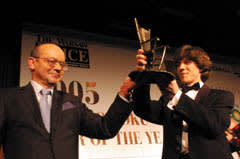 Receiving Chair of the Year 2005 Award
from
Warsaw Voice (Feb. 2006)
Rafał's father:
The most difficult moment for us was when we were seated among the audience and can't do anything;
so we supported Rafał with a prayer.
Rafał Blechacz:
There were plenty of emotions including a stage fright.
The most difficult moment was the third part of the competition.
Rafał's mother:
We didn't take photos as we forgot to bring a camera.
Rafal received a beautiful album with photos of Chopin Competition so we are very happy.
During the announcement of the results there was a huge crowd.
It threw us in danger; one journalist fell down and Paulina's glasses dropped on the floor.
Director of philharmonic gave us sign to go out. We were in the lift...
Rafał Blechacz;
The door of the lift opened on every floor
and journalists took our photos then the door closed,etc…
We couldn't go outside.
Rafał's mother:
Now our life becomes more and more normal.
Rafał received the title "Citizen of honor of Nakło" and the flat in Bydgoszcz.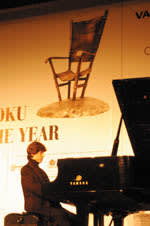 @ the Gala for the Award giving ceremony: from Warsaw Voice
"Chair of the Year should go to the person, institution or even an object
that exerted the strongest influence on the Polish reality or our emotions in the past year,"
says the editor-in-chief.
(The first laureate was the legendary Solidarity leader Lech Wałęsa.
The statuette is the shape of film director's chair.)
In a letter to the winner, Maciej Łopiński, secretary of state at the Office of President Lech Kaczyński, wrote,
"...he not only raised the admiration of jurors and music lovers with his virtuoso performance,
but also moved the hearts of his compatriots.
Providing listeners with unforgettable artistic experiences, he gave us all a reason to be proud.
By presenting the Chair of the Year not to a politician or entrepreneur but an artist this time,
the editors of The Warsaw Voice not only appreciated the important role of culture in society,
but they also distinguished perseverance and modesty-features that, combined with talent,
can lead one to the very top."