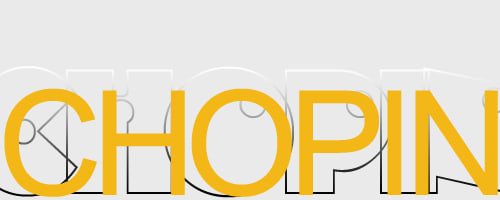 Deutsche Grammophon's
website
"Chopin The Piano Concertos" for Rafał Blechacz changed its design.
As far As I know, it is the third version.
Personally I liked the
first version of this website.
---------------------------------------------------
Rafał Blechacz gave an interview to Polish Radio 2, which was broadcast on August 9.
He mainly talked about the upcoming new CD "The Chopin Piano Concertos" and the recording sessions he had in early July in Amsterdam.
He also touched upon his future plan as well as his study of philosohy.
This English segment was provided by
Dana
and
Ola
, Rafał Blechacz music lovers in Poland.
I'd like to extend my sincere appreciation to them for their kindness and effort.
How blessed we are to be able to know Rafał's latest remarks about recording of Chopin Concertos and future plan. }
Please read
the interview to RMF Classic (Polish text included)
and
the interview to Polish Radio 1 on July 12 (podcast included - listen to Rafał's voice)
as there are overlapping parts in these interview.
----------------------------------------------------------
RB: Rafał Blechacz
JH: Jacek Hawryluk (interviewer)
Concertgebouw entrance (Dana, thanks !!)
RB: When it comes to the decision about the orchestra I decided myself, after my concert with Royal Concertgebouw Orchestra (RCO) about one year ago. It is also at that time when the name Jerzy Semkow appeared in my mind for the first time. I was happy when my decision was accepted. From the beginning I was thinking about a Polish conductor because of the aura of Chopin's concertos. I wanted also that the conductor agree with my interpretation.
RCO liked very much Semkow's proposition of exposing the wind instruments even in the short fragments.
The record session usually began at 10 o'clock am and then continued to 1:00 or 1:30 pm with 15 minutes break for tuning of instruments, piano too. We were working one week. In the afternoon I had consultations with maestro Semkow, the concertmaster and the piano tuner too.
I had met maestro Semkow several times in Poland before the final recording in Amsterdam. We had a lot of time to discuss, next to the piano, the interpretation of the both concertos. He noticed very carefully my suggestions of agogics, change of colour, dynamics.
I was fascinated by the timbre of RCO and felt comfortable while playing with them because they always followed me. We had a beautiful dialogue especially in the second movements of the concertos.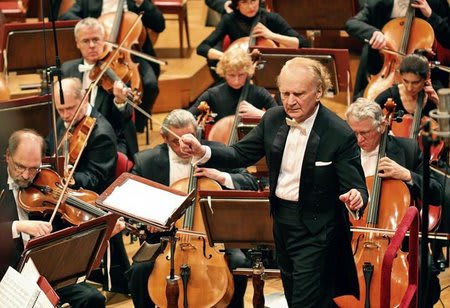 Jerzy Semkow and Filharmonia Narodowa, @ Warsaw
From
culture.pl
JH: How did they manage to play the Polish dances?
RB: (laughing) There was a lot of joy when they played the third movements of the concertos. Altogether, we spent much time to give the proper atmosphere to the interpretations of Polish dances, especially their tempo and rhythm. When I first heard the recording of these movements I found them performed very well...
Brilliant musicians of RCO realized our ideas, mine and Semkow's, at once without any problems.
Maestro Semkow gave the orchestra the opportunity to display all their possibilities, especially at the beginning of the concertos, perfect acoustics of the Hall was a huge inspiration too.
For me, the both instrumental introductions in the concertos are very important because they announce what will happen in the next parts of the concerto. It would be an unforgettable loss not to seize the opportunity of hearing the beautiful timbre of this orchestra and its possibilities.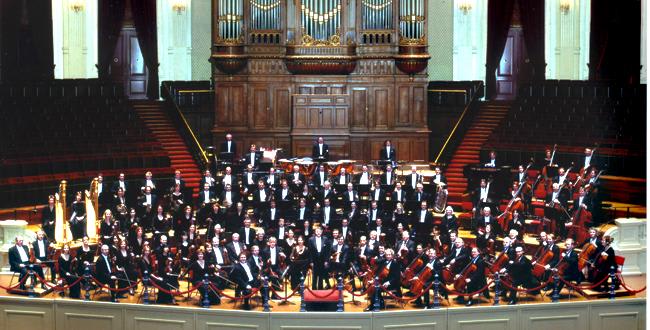 Royal Concertgebouw Orchestra
JH: You like Krystian Zimerman but your interpretation of the concertos is quite different from his performances. What did you take from K. Zimerman?
RB: Zimerman's interpretation from 1999 is very individual and today already a legend. It is an inspiration for many conductors and soloists.
I remember my concerto in Tonhalle when maestro David Zinman ordered members of the orchestra to listen to the CD with Zimerman's concertos. I know earlier Zimerman's interpretations. They prove how a pianist matures during long years.
My interpretation is more youthful in the positive sense of the word. I wanted to express myself. It is difficult to say what inspired me in Zimerman's performances. Certainly I was marked by the interpretation of both third movements by
Rubinstein
.
Other pianists who I listen to are M.Argerich, C.Arrau.
K.Zimerman and Polish Festival Orchestra, 1999
Maestro Semkow accepted my ideas and didn't insist on his own concepts. He followed me. He realized his ideas in the orchestral parts but in the piano part he accompanied me beautifully.
I am happy that the first contract with DG ended well.
In more than ten days I will go to Hamburg to hear all recordings and choose the best one. I will be present by the editing up to the end.
I have now signed a new contract for three more albums.
The next one without Chopin's music. It will be devoted to another Polish composer but not entirely. DG is open to Polish music. I will play these works during my concerts soon. I have already prepared more material for my new CD, but I don't want to talk now about my new record.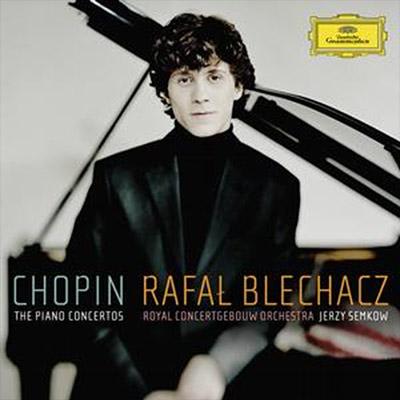 JH: How do you work now? Do you have a professor or do you rather work alone?
RB: I work alone and I don't have any professor to supervise me. But as every pianist I need "a second ear", in seek of confirmation, inspiration, that's why I appreciate so much meeting such great artists as K. Zimerman, M. Pollini and others. Soon I will have the opportunity to meet
Maria Tipo
☆
in Italy as I will play there some concerts. It is important to spend some time with the piece you are working on, to have a vision of it, then to be able to talk about it and discuss it.
JH: I've heard that you started your studies of philosophy? Do you have enough time for that?
RB: Studying philosophy is for me a great way to relax from the piano. I have now finished my first academic year. Taking books with me and read them when I travel is my way of studying. I am fascinated by the philosophy of music, so musicology supported by philosophy. I read
Roman Ingarden
and
Władysław Stróżewski
, I am very impressed by his book "Dialectics of creation" [polish original title "
Dialektyka twórczości
"] which is devoted to the notion of interpretation in different arts.
I can't exclude the possibility that my future thesis will concern the question of the correct interpretation of a given artistic work, but also the question of a certain freedom of interpretation.
JH: The Chopin's year 2010 - what are your plans for the future?
RB: That's why I insisted so much on recording the Chopin's two concertos before, because in 2010 I will have a lot of performances and certainly no time for more than that, I will visit three continents.
But I also prepare myself for the year 2011, when I will play several times in the US. I wait for performing
Liszt
concertos with Philadelphia Orchestra and especially maestro
Charles Dutoit
, with whom I have already the immense pleasure
to play one of Chopin's concertos.
.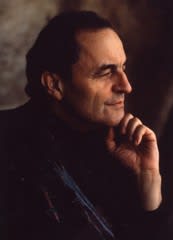 In 2008, Dutoit became the chief conductor and artistic adviser
of the Philadelphia Orchestra.
JH: But the coming new year is also the year of Chopin's Piano Competition in Warsaw. Do you still come back to your memories of that time or you are rather concentrated on your career, which is so brilliant, and look to the future?
RB: I rather look to the future, but sometimes I like to go back to the moments that have changed my life. When I play the third movement of the E-minor concerto, the two last pages, somewhere deep in my conscience the memories of the competition are coming back, especially when I hear the thunderous applause.
JH: I have the impression that your interpretation from the competition and the one from Amsterdam belong to two different worlds.
RB: It is the result of my artistic and human maturing. It is undoubtedly also the result of having performed so many diverse piano pieces and concertos with different orchestras and conductors other all over the world. Thanks to it the music you play "grows strong in your hands and fingers", gets its maturity in your mind and heart, changes slowly and naturally.
JH: Thank you so much from the Polish Radio 2 and best, best wishes.
RB: Thank you very much.