From Deutsche Grammophon yellow news flash;
Rafał Blechacz: DG Yellow News Flash:
Rafał Blechacz's new Chopin Recording is Crowned with Gold
Rafał Blechacz's new Chopin Recording is Crowned with Gold Yesterday at 12:08pm
GOING GOLD ON DAY ONE!
Poles take an instant shine to Blechacz's new Chopin release.
Rafał Blechacz's second Chopin recording for Deutsche Grammophon – the two Concertos, with Jerzy Semkow conducting the Royal Concertgebouw Orchestra – looks set to equal or surpass the huge success of the pianist's Deutsche Grammophon debut. That recording of the complete Preludes by the 2005 Chopin Competition winner, which went platinum in Poland after only five weeks, has sold more than 60,000 copies worldwide. But the new album could well trump this remarkable achievement: it reached gold status in Poland on the very first day of its pre-release there on 18 September and is on the way to becoming a major highlight of Chopin Year 2010. The international launch is set for October 2009.
(Note: I'm a subscriber of DG yellow news but I haven't received this news yet.
I found this article on the internet=facebook.)
Other news from Germany
Brief preview of Rafal Blechacz's new CD "Chopin The Piano Concertos" posted on the site of
Mainpost
,
a newspaper based in Würzburg, the northern tip of Bavaria, Germany.
English (machine-translated)
In the final line, the article says that Blechacz will play Chopin Concerto in F minor
in Bad Kissingen on June 27, 2010 (
concert schedule
)
welt.de
posted a preview of Blechacz's
recital in Hamburg
on Oct.6
(or rather, it describes beautifully & accurately Blechacz as a pianist.)
English (machine-translated)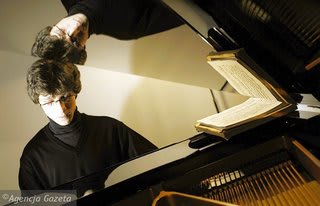 Poland
Przekroj.pl
dated on Sept.23 posted a review by Ada Ginał on Blechacz's new CD titled,
"Blechacz przechodzi do historii (Blechacz goes/passes down in history)".
English (machine-translated)
Rafał is 24, Semkow is 80 and RCO is 120 years old....Interesting!!
Ada Ginał says that there is a bonus of Mazurka op.17-4. Really? Fantastic!!
Interview with naszdziennik
dated Sept.26, titled "O koncertach Chopina i wierze w Boga
(About Chopin concertos and the faith in God)".
English (machine-translated)
And....
Blechacz's official website
has made
a long-waited
update!! (←Bravo!)
And, and...
this Empik page
is usuful! by having relevant video, photos, CDs and articles.