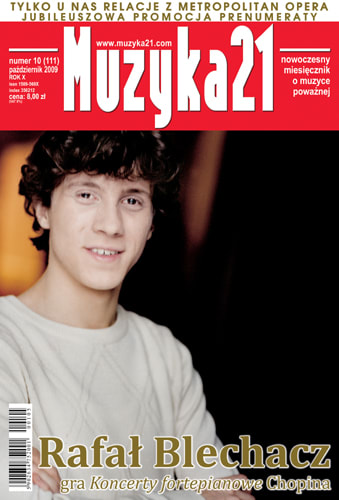 ↓News from Mr.Roman Frackowski.
Thanks a lot!!
"Muzyka21, Polish monthly on classical music, is announcing on the internet that its October 2009 issue will be on Rafał Blechacz and his recent Chopin Piano Concertos recording (with Royal Concertgebouw, under Jerzy Semkow) to be released on Oct. 5, 2009 (already released in Poland on Sept.18, 2009). See cover design (a photo of Rafał):
About MUZYKA21 (English)
Na okładce październikowego numeru Muzyka21 jest Rafał Blechacz. Numer będzie mu poswiecony oraz jego nagraniu koncertów Chopina z Royal Concertgebouw pod dyr. Jerzego Semkowa, które ukazały sie w Polsce 18 września.
R."
Deutsche Grammophon released 6-CD box
of 111 tracks in commemoration of its 111 year-history.
The commemorative box includes Rafał Blechacz's Chopin Prelude G major.
(See the 8th track of the 1st CD.)
Amazon.UK site
for this 6-CD box.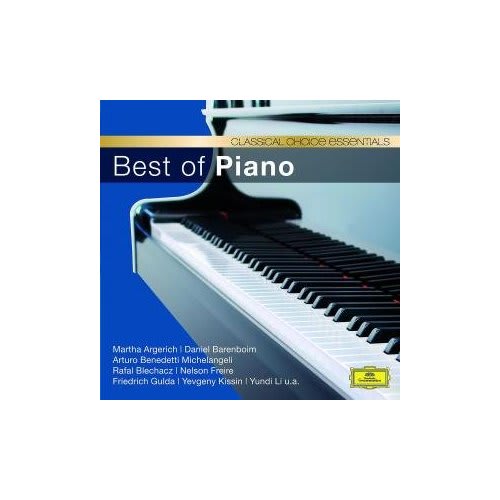 On October 16, in Germany, Deutsche Grammophon will release "
Best of Piano
(Classical Choice)",
the recordings featuring such DG artists as
Argerich, Barenboim, Blechacz, Gulda
,
playing compositions by
Beethoven, Brahms, Chopin, Mozart, Schumann, etc...
See Amazon Germany site.

Blechacz new CD "Chopin The Piano Concertos" will be available on
Zona de Compras (Shopping zone)
on October 15.
Spanish site (El español es aquí).
It looks like that it is a shopping site for Latin American countries plus France?!
Release dates of the new CD:
Oct.2, Germany via Amazon
Oct.5, international release date according to Deutsche Grammophon
Oct.7, Japan
Oct.12, U.K.
Oct.23, Italy