Promo video of "Chopin The Piano Concertos" by Rafał Blechacz has been released on KlassikAkzente and Amazon German sites.

Please see the video @ KlassikAkzente.
I Recommend it, larger screen


Also available @ Amazon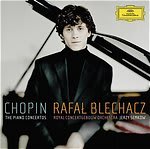 You can see the recording sessions at Amsterdam Concertgebouw with Royal Concertgebouw Orchestra under the direction of Jerzy Semkow.

Rafał Blechacz mainly talks about Chopin Concerto in F minor.
This video reminded me of the review written by a Dutch critic
Divine Blechacz became Chopin.
I could also imagine how it is like if Blechacz conducts an orchestra.