Rafał Blechacz offers congratulatory remarks to Deutsche Grammophon for the label's 111 years' of excellence.
"I am happy and grateful to be one of the Deutsche Grammophon artists celebrating 111 years of its history.
This 3-digit number is a triple confirmation of the company's fidelity to classical music,
to its professionalism,
and to its willingness to share the beauty of art with millions of music lovers all around the world.

I also firmly believe that Deutsche Grammophon's respect for tradition and never-ending quest for perfection
will ensure that these words are still true 111 years from now.

Rafał Blechacz "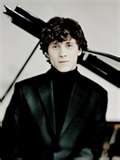 See DG page for Rafał Blechacz and other DG artists messages.
(In Blechacz's column, Martin Lovett's greeting is mistakenly mixed up.)
----------------------------------
Nordsee-Zeitung
, Daily newspaper in Bremerhaven, Bremen Germany, on the on-line version on Sept.13,
introduces new albums in autumn,
of the artists young and old, including Horowitz, Murray Perahia, Yuja Wang, David Theodor Schmidt, Nikolai Tokarev and Rafał Blechacz.
As for Rafał Blechacz's new album "Chopin The Piano Concertos" to be released on Oct.2 in Germany, it says:
"....The reception of the two piano concerts by the young Pole Rafal Blechacz shows that one can absolutely increase the value of many-scolded orchestra parts by Chopin, due on October 2 by Deutsche German gramophone. Jerzy Semkow lets the Concertgebouw Orchestra of Amsterdam make music so color-rich that the 24-year old pianist can advance like on a carpet. As Blechacz known already in his Preludes to tickle his Chopin enormously - far beyond any salon attitude. Here is a pianist who brings out 88-key all out, which is possible. Fantastic! "
(↑ I had no time to verify this machine-translated English....sorry.)
English of the full text (machine-translated)
10月2日にリリースとなる、若いポーランド人ラファウ・ブレハッチの新譜を聴けば、あまり評判のよろしくないオケのパートにも付加価値を与えることが必ずできるのだとわかる。イェジー・セムコフは、コンセルトヘボウ管弦楽団をとても色彩豊かに演奏させたので、24歳のラファウ・ブレハッチは魔法の絨毯に乗って、前に進むことができた。前奏曲のアルバムで独自のショパンの魅力をとてつもなく発揮したブレハッチ、サロン音楽のレベルは遥かに超えていた。88の鍵盤を生かしきることが出来るピアニスト - これができる演奏家もいるのだ。なんと素晴らしい!
(↑ 多忙につき、機械翻訳による独→英の検証ができていません。その不確かな英語をタテにしたものです。あしからず・・)