Rafał Blechacz's new CD "Chopin The Piano Concertos" has attained the platinum status in Poland
in only five weeks after the release on September 18.
Please see
Empik site
Oficjalna Lista Sprzedazy (Official List of Sales)
(Sales for the period between Oct.12 and Oct.18)
As of today (October 23), Blechacz's CD "Chopin The Piano Concertos" is at 13th place, down from 5th of last week
and his CD has been ranked in the hit chart for 5 weeks now.
The ☆ mark shows that his CD is at the platinum status.
Please remember that this is the chart of all kinds of music, where Blechacz's CD is ranked the highest in classical music.
Other musicians given the platinum are, e.g. Madonna, Michael Jackson, etc...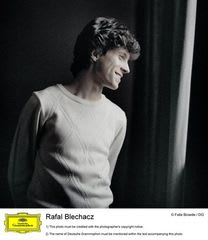 Thanks to Dana for the news.
In Taiwan, the new CD will be released on October 29.
"布列哈茲"= Blechacz
"鋼琴" = piano
"謝姆庫夫" = Semkow
"阿姆斯特丹大會堂管弦樂團" = Amsterdam Concertgebouw Orchestra
"波蘭" = Poland
"適度的華美" = moderate brilliance and beauty
"音樂中純粹的魔力" = the magic of pure music".
(↑ For Japanese people who can recognize traditional Chinese characters used in Taiwan and Hongkong, it's very interesting..)
At the beginning, the article says;
"In Poland, the CD topped the gold record status on the first day of the release".
After describing Blechacz's bio, it concludes;
"Among the younger generation of musicians today, Blechacz has a rare personality; his graceful, delicate and poetic interpretation of Chopin's works is indispensable; his solemn temperament and moderate brilliance and beauty conveys the magic of pure music".
Taiwan's newspaper "Takungpao" posted an essay titled
"Recordings by Rookies", written by 赖建群 (Lai Jian-Qun)
on its website on Oct.22.
"Recently, many new recording have been released, among them there are wonderful works from a number of New Horizons.
High-profile and preferred one is by Chopin International Piano Competition First Prize winner, Rafał Blechacz, the recording of the Chopin concertos. He is a pianist whom I have recently paid much attention. In the generation of young pianists, he is better equipped with the fundamental techniques to hone out the playing. In addition, with his sweet nature, his playing is natural and also the most precious".
After Blechacz, the author writes about other young promising musicians such as Scottish violinist Nicola Benedetti, young Russian conductor Vasily Petrenko and young pianist Cheung Wai-ching.