From the new CD column of
Spiegel Wissen, Germany
, issue as of October 28
Frédéric Chopin: "Die Klavierkonzerte"
Rarely, a performance of these pieces really succeeds, because they are not artist's fireworks or symphonic mountains.
Rafał Blechacz knows this and has a solution:
The Polish young star recognizes long chamber-meditations in them, which he listens closely to know anew.
The Concertgebouw orchestra under Jerzy Semkow seconds (supports) him splendidly with it.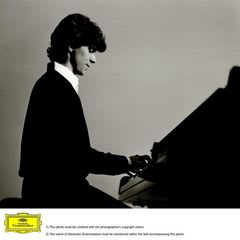 New CD release
Slovakia shopping site.
The CD was released on Oct.26.
China, released on Oct.13
, but it is not a shopping site. It says "Go to Amazon.com". (=US)
(I was informed by my friend in US that she pre-ordered the CD in early October but the delivery delayed and she must wait for another week before delivery although Amazon.com site says the CD is in stock.)
Korea, to be released on November 3, 2009.
The young master, the winner of 2005 Chopin competition, the holy pianist of Poland returned back to Chopin.
The second Album of Chopin by this marvelous pianist will be released domestically on November 3.
The pianist who made a spectacular debut by selling over 60,000 discs world wide draws more expectations as he recorded both of Chopin's concertos with the Royal Concertgebouw Orchestra.