Congratulations!! on the fourth anniversary of Rafał's winning.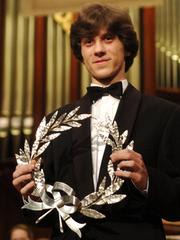 Time flies, isn't it?
Four years have passed since Rafał Blechacz was awarded the gold prize
in an unprecedented manner in the 2005 Chopin Competition.
Since then, or even since before that, his music has always been the source of happiness,
relaxing our minds,
purifying our hearts and
fulfilling in our lives.
Thank you Rafał Blechacz.
It's always very difficult to express our deepest appreciation to you with words.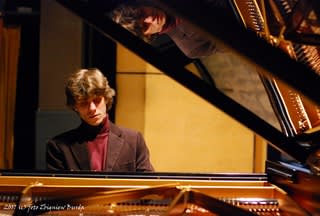 Yesterday, I posted an interview that Rafal gave during Japan tour in February.
It reminded me that after the Japan tour, I received an e-mail from an admirer of Rafał's music in Korea.
She came to Japan to go to Rafal's recital at Tokyo Opera City on Feb.14.
(First, she writes about her impression of Mozart sonata C dur played by Rafal.)
"It's beautiful, clean, delicate and warm.
Particularly I love his pianos".
"Last February, I attended Rafał's recital at Tokyo opera city concert hall.
His pleasure of playing the piano spread to me
and concert hall seems to be purified by his playing,
so I felt as if I were in a beautiful dream.
Rafał's piano always gives me energy, dream, and love for art.
Best regards, Yewon"
This is what Beata, another admierer in Poland, said about his new CD "Chopin Concertos".
"When I go to job and Rafał's concertos stay at home,
I have the impression that the peace of my heart stays at home too."
Thanks to Yewon and Beata.
I believe there are many who are of the same view.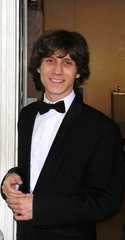 "Kampai (toast)!!" to the happiness of our beloved pianist and all music lovers.