The following article from Newsweek (Poland) with English translation was sent to me by Mr.Roman Frackowski.
My deepest thanks to Roman♪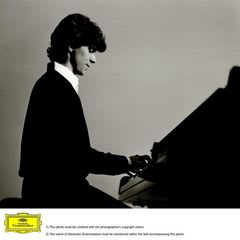 Filip Lobodzinski placed in Newsweek Polska (No. 41/2009, Oct.11, 2009, p. 111)
a review from the Concertos by Chopin recorded by Rafał Blechacz with Koninklijk Concertgebouworkest
under Jerzy Semkow (CD released in many countries in Europe on Oct. 5, 2009,
just a day before Rafał's recital triumph at Laeiszhalle, Hamburg, Germany).
Here is the Polish text (without Polish diacritics):
CHOPIN JAKIEGO NIE ZNACIE
Pierwszy raz slysze koncerty Chopina zagrane tak, jak chcialem je slyszec, bez poznoromantycznej maniery na lzawo albo patetycznie.
Chopin wyrosl przeciez w konkretnej tradycji, uwielbial Mozarta i Beethovena, i to wreszcie slychac.
Blechacz zdjal go z mszlanego cokolu i jest to teraz muzyka zadumana, gdy trzeba potezna,
ale bez triumfalizmu, a momentami wrecz figlarna.
Takie jest finalne allegro vivace z koncertu f-moll, z pomyslowo zaakcentowanymi partiami instrumentow detych.
Allegro maestoso z koncertu e-moll z kolei to niemal roztanczona dworska zabawa.
To przede wsyztskim zasluga orkiestry amsterdamskiego Concertgebouw pod batuta Jerzego Semkowa.
A nasz solista? Nic sobie nie robi z peanow - gra w skupieniu, ale ze swoboda,
swietnie laczac emocje z intelektualnym cwiczeniem.
To nie jest wirtuozerskie "ja, Blechacz", ale przemyslane "ja, muzyk".
__ Filip Lobodzinski ___
Below is the English translation:
CHOPIN WHOM WE DON'T KNOW.
It is the first time I hear Chopin's Concertos played as I always wanted them to be played,
without the late-Romanticism manner, tearful, or pathetic.
Chopin, undoubtedly, was raised in a particular tradition; he admired Mozart and Beethoven,
and one can hear this at last.
Blechacz put him off the ceremonial pedestal and his music is now dreamy, powerful when needed,
but without triumphalism, and sometimes frolicly.
Such is finale's allegro vivace from the Concerto in F Minor, with thoughtfully accented parts by the wind instruments.
In turn, allegro maestoso from the Concerto in E Minor one can feel as a joyful courtly dancing.
Here the Amsterdam Concertgebouworkest and Jerzy Semkow, the director, deserve a high praise.
And how about our soloist?
He is not concerned with the peans - he plays concentrated, but at the same time relaxed,
excellently combining emotion with an intellectual exercise.
It is not a virtuosity "I, Blechacz" but a thoroughly thought through "I, the artist".
______Filip Lobodzinski___
I'm grateful to know that Blechacz receives high acclaim also in a printed media in Poland, which is not available to me.
My friend Dana said that she read the Newsweek review too and found that the maximum level of stars was given to this album,
with the evaluation of "great".
She also read interviews in another printed media such as music magazines "Muzyka 21", "Twoja Muza" (
Adam Rozlach
writes.)