"Record Geijutsu (recorded music, art)" November, a monthly issued on Oct.20 in Japan carried an interview with Rafał Blechacz that he gave in Feb. this year during his Japan tour.
Interviewer: Tsutomu Nasuda
This photo was taken in the summer 2007 for another interview in Japan.
----------------------------------------------------------------
For the past four years since his phenomenal victory at the 15th International Chopin Piano Competition in Warsaw, he has stably built up a career as a concert pianist by playing for concerts and recording CDs. He will release the third disc "Chopin The Piano Concertos" for Deutsche Grammophon in October following the "Chopin Complete Preludes" and the "sonatas". I had the opportunity to talk with 24 year-old Rafał Blechacz, the young genius from Poland alongside with his visit to Japan in February when he performed a soloist for Berlin Radio Symphony Orchestra.
Blechacz came from Nakło nad Notecią in Kuyavian-Pomeranian Voivodership , Poland. A pious Catholic, he used to play organ since he was a young child in church in the neighborhood. Does this give influence to his soul and pianism? My question began from this.
Playing organ is useful for playing piano
RB: I'm willing to play organ even today if time allows it. First it was not piano but a small pipe organ that attracted my musical passion. Small organ with one set of keyboard and registers were probably fifteen or so. The organ at the church of my hometown Nakło is a little bigger with two sets of keyboards and about 20 stops. I've played this organ several times mainly for mass and church services. If I have additional time after that, I'm willing to play to enjoy myself. I've held organ concerts several times although they are on small scale.
-- You really love playing organ! It's between ourselves (laughing), but which instrument do you have a stronger passion for, organ or piano?
RB: Today it is piano, definitely. But I must say that playing organ is useful for playing piano in various ways. I love Bach and play his pieces with piano. I sometimes try to make sure timbers with organ. Apart from Bach, I recognize parts of some piano works are quite similar to organ music, such as the beginning of piano concert in G minor by Saint-Saëns, some portions of variations by Szymanowski. Chopin Prelude No.20 is another example.
--If you look at technique, how do you relate organ to piano? I know someone who points out that piano music by Beethoven stems from organ's touch.
RB: For me it is more about how to interpret music. But organ is useful for technical aspect, too. For example, playing organ enhances the ability for legato. You can play legato relatively easier with piano, but with organ, you need to express it with fingerings only.
-- Do you love polyphonic music?
RB: Absolutely. There are quite a few polyphonic pieces by Bach and by Chopin in his later period such as Fantasie, Polonaises and Nocturnes. What is interesting is when playing organ, you can change sounds using stops; but when it comes to piano playing, you need to express the changes by various touches. Here organ is useful to identify the image of desirable sound.
-- What kind of music do you listen to in day to day life?
RB: I like classical music but I tend not to listen to piano music. These days I listen to ..well ..operas, organ, symphonic pieces and chamber music. When I'm with my sister, we hear pops. While driving I usually turn on radio and probably choose pop music. It's dangerous to hear classical music when I'm a driver because it takes my attention too much (laughing).
1st Partita by Bach – I really want to play
-- If you have the opportunity to record works by Bach, which pieces would you like to select?
RB: Partitas, Goldberg Variations, Well-Tempered Clavier, Italian Concerto….well when it comes to recording, I must think it seriously. Actually there are a mountain of beautiful pieces with each of them giving me inspiration. The Art of Fugue is also impressive. I would like to play the 1st Partita in 2009/2010 season. By any chance, I might want to record Bach by organ (laughing). Of course I don't know.
-- Do you have in mind any specific organ in church that you would like to play for recording?
RB: I have my house in a village which is a little bit beyond Nakło, and I would like to play a concert there in a church in Częstochowa in the near future.
(This is what the original Japanese text reads. I'm not for sure which church he refers to, a church in Częstochowa, or Jasna góra in Częstochowa or a church in the village of his house.)
The church has a large, beautiful organ with more than 30 stops. In Poland, we have many Catholic churches with organs. I must say the organ in Oliwa is excellent among other things. The Philharmonic Hall in Warsaw also has a wonderful organ. I had the opportunity to play that organ for three hours in that hall after the organist gave me a permission. There was no one else in the hall and I had the luxury to play at will. It was just four days after the Chopin Competition completed, so for me it was a special prize. A very pleasant memory. Regrettably, though, Chopin didn't write a piece for organ. But I know some Preludes sound very beautifully when played by organ and there is a story that Chopin used to play organ at church when he lived in Warsaw. Another story is that he played organ for an accompaniment to the songs sung by Konstancja Gładkowska. Let me say that these experiences definitely helped him get inspirations for the 2nd movement of his piano concerto No.2.
Polish tradition in playing Chopin
-- Are you one of those who take sufficient time before playing a new piece of music?

RB: It all depends on the piece. If the piece is bigger in scale, it takes more time to make it my own; it requires considerable time to be able to convinced that I've mastered it. When I try to expand my repertoire, first I select a new piece assuming that it will be eventually recorded. Then I play it in a relatively small hall in Poland to check it and then bring it to a bigger hall. Once I'm convinced of mastery, then I would bring it to the recording studio. This was the case for recording "Complete Preludes" by Chopin. I performed these Preludes before the audience during my tours in Japan, for example. Accumulating experiences of playing gave me confidence to go ahead. After feeling "It's O.K." I recorded them in the studio in Hamburg.


-- Halina Czerny-Stefańska frequently came to Japan in her late years. She made effort to teach young Japanese mazurkas and polonaises of Poland by giving lessons and holding seminars. Do you have a sense that you are connected with the Polish tradition of playing Chopin?

RB: Polish people including myself possess a deep musical tradition. I often listen to the recording by Raul Koczalski. He was a student of Karol Mikuli who was a student of Chopin. Therefore, Koczalski is a second-generation pupil of Chopin. He left a lot of pieces recorded and I have a lot to learn from them. Of course style and trend of playing may change as we go forward in time. However I think that there is an invariable tradition regardless of such changes. Another thing that I can count on is the letters written by Chopin and writings by those close to him. Reading such a literature, I can understand how Chopin played clearly and completely. It is written that Chopin played the Concerto in F minor so smoothly as if he was walking in heaven. I like performances of Chopin's music by other Polish pianists such as Paderewski and Rubinstein, too. Listening to them is quite informative.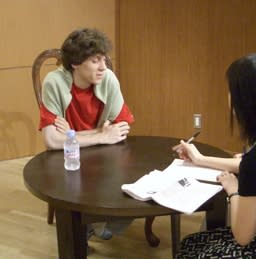 Summer in 2007 for different occasion of interview.





Paderewski - already my flesh and blood



-- How do you like the new Ekier edition?

RB; I was given a set of scores of the Ekier edition as an additional prize of the Chopin Competition. I use them sometimes. But for the Competition, I performed based on Paderewski because I had always been using Paderewski and didn't want to change it just before the competition. In Poland, many people use Paderewski edition even today.


-- What is your personal view of the Ekier? Any chances to play with it in the future?

RB: Paderewski edition has already been my flesh and blood. It is difficult to imagine changing it all. But I have an impression that there is something interesting in fingering in the Ekier. Sometimes, therefore, I refer to it. For example, Polonaise in A flat major (Mr.Nasuda's note: Heroic Polonaise) has a part where a tone of C with accent is repeated obstinately in a very quiet scene. The Ekier edition gives an instruction to play them with the thumb. Following the instruction allows me to generate a natural accent. When using other fingers, I need to be careful to accentuate. This is an example that I like to use this particular edition for.



Recording Chopin's Concertos with compatriot maestro



-- You are going to record the two piano concertos by Chopin. How do you characterize maestro Semkow?

RB: He is energetic and excellent from a musical viewpoint. In the Piano Concertos by Chopin, there are times when orchestra must echo the same part as the piano solo part; Expressing appropriately tempo rubatos and agogics requires the highest level of delicacy and sensitivity. I think he has a full-fledged understanding of it and we will be able to effectively collaborate. I strongly believe that it is meaningful to play Chopin with the musician who has grown in the same land as Chopin. I would like to let people listen to the Chopin music grounded on the Polish tradition.


-- How do you spend your days off? For example what books are you fond of?

RB: I began studying philosophy at Nicolaus Copernicus University in Toruń last year. Studies of Plato and Aristotle. Also, there is a Polish philosopher Roman Witold Ingarden who has interesting writings of philosophy of music. I'm interested in and read his books. Ingarden was a student of Husserl, the phenomenologist. Therefore, I read books on Husserl, too.


-- Do you go to church on Sunday during your stay in Japan?

RB: Yes, I've already been there twice. I will go to another mass when I go to Osaka later this week. The church in Hatsudai (name of a town in Tokyo) I went to recently had a new organ installed and it sounded fabulously.


-- You don't play piano on Sabbath day?

RB: Of course I don't play when I'm at home – I'm joking. Actually I spend more time playing piano on Sunday than usual. Last week I held a recital on Saturday (at Tokyo Opera City Hall), so exceptionally I didn't play piano in the following day or on Sunday. This Sunday was the only day off for me during the Japan tour. But basically I'm like a bird who has no day when he doesn't fly. I have no day when I don't play piano (laughing).


-- What is the relationship between faith and music for you?

RB: It is meaningful that faith is a support for me to live. Faith supports me as a human and as a musician when I do various activities wherever I am. It is something that I always count on. For Bach, Mozart and many other artists, faith was of great significance from a different angle. Bach had to write cantata for Sunday mass; for Mozart, requiem was one of the most important works. Many musicians have found a profound meaning in faith; in the same manner, for me faith is essential.


-- Thank you very much for your time. I wish for your continued success.
(End of the interview)


Small and slim built with a boyish face, Rafał Blechacz was a quiet, sincere and intelligent man– the same as the music he performs. I had this interview with him eight months ago. Today, I received his new CD "Chopin The Piano Concertos". As is always so, there is nothing that he tried to do something especially differentiating. His playing is never aggressive or pretentious. His graceful touch and purest expression bring out the music naturally spreading fresh and juicy spirits everywhere. While listening, I was taken back to the time when I heard these Concertos for the first time and was deeply moved. His concerto in F minor is especially touching. Only a youth of delicate and pure soul like him can perform it in such a way to purify your heart and mind.
(by Tsutomu Nasuda)
Nasuda's review on CD "sonatas"
Nasuda's review on CD "Preludes"