You are becoming Chopin
When you are listening to so unbelievably beautiful music you feel a huge space at the same beginning.
RCO has a warm, unique, almost classical sound which gives feeling of the space, fabulous impression of power, aesthetic sense.
Against this background, Rafał tells Chopin's romantic tale about his emotion which becomes yours.
You are running into them. You experience them. You feel them by every note, every pause, every passage.
Every sound is very important and brings something weighty into this story.
You are becoming Chopin. You are Chopin.
You know what he felt at the moment. You felt his joy of life, his love, you dance with him.
And you can listen to this tale again and again, always you will hear something new.
So unbelievably beautiful music Chopin wrote, really great works which you can know first time thanks to Rafał.
Surprising, astounding recording...
Rafał thank you very much.
(by Dana, Poland)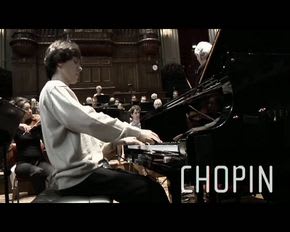 For my mother's peaceful departure
As many people say, I felt Rafał is akin to Chopin especially when listening to the Concerto in F minor, 2nd movement.
I saw him live-performing this concerto last year at the open public dress rehearsal in US for the first time.
He played like a god.
Then this concerto became very special to me.
When Rafał is immersed in playing music, his noble face often reminded me of my mother
when she enjoyed hearing or singing her favorite music. (I don't know why. They do NOT resemble).
Not officially educated for music, she had good ears and memorized words of all kinds of songs
that happened to be in her surroundings; children's songs that she was taught by grandma,
pop & folk songs and some classical music.
Her favorite included "Woman" by John Lennon and "Voi che sapete" from Marriage of Figaro.
She passed away in late September.
It was not an easy death and I wonder why an honest woman like her had to suffer so much for so long to leave this world.
But she was able to hear Rafał's Mozart and Bach in her final days.
The Chopin Concertos played by Rafał, full of youthful joy and hope, are becoming her requiem;
I now feel she is sitting with me praising Rafał's brilliant and crystalline sound.
I believe her soul rests in peace and joy (she is even dancing!)
And the Concertos by Chopin became even more special to me.
Thank you very much, Rafał Blechacz.
(by Akiko, Tokyo)