Recently I've seen articles that Bydgoszcz will elect ambassadors of the region for "Science", "Economy", "Culture and Arts" and "Sports," and voting process will last until early December,
and Rafał Blechacz is one of the candidates of the Ambassador for Culture and Arts.
Gazeta Pomorska on November 15 posted a page for Rafał Blechacz to introduce him as a candidate.

I'm not in a position to comment on this but I saw a few lines demonstrating warm personality of Blechacz.
It is about an organ concert that Blechacz gave for a church in Łochowo.

Last year, the priest of the parish church of Łochowo asked Blechacz to play an organ recital at church and he gladly accepted the request.
The artist said then that a strong foundation and point of reference to everyday life is faith in God.
"It helps a lot in life. Especially in times when it is not easy" - he said.

- It was amazing - says Ms Ania Kulpicka, a resident of the village.
She says that all the residents were welcomed by Blechacz with smile and he gladly gave autograph to them. He gave the concert not only for free, he played it really beautifully.

The article doesn't specify the date of the concert, but I guess it is the concert at the end of May.
See the related story.


Bishop Jan Tyrawa dedicated the historic organ at St. Kazimierz Church in Łochowo.
, Nov.17 , Gazeta Wyborcza reports.
The article also mentions that Blechacz had sat at the organ before.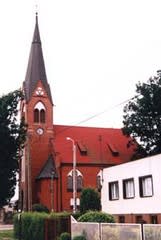 TVP Kultura (TV in Poland) will broadcast Blechacz's performance of Chopin Concerto in E minor at the 2005 Chopin Competition,
at 10:30 on November 22.