A review of Rafał Blechacz's CD "Chopin The Piano Concertos" written by Cosme Marina, posted on La Nueva España, an independent daily in Asturias (northern Spain) on December 2, 2009.

Original review (Spanish)



The renovated Chopin by Blechacz





The aesthetic freedom of a young interpreter



In the history of piano literature the figure of the Polish composer Frederic Chopin (1810-1849) occupies a central place. The romantic piano is without doubt one of the most fertile periods of the instrument and Chopin's standard from the conception of imaginative proposals continues to attract and excite successive generations of music lovers.

The world of the piano is one of the most complex musical fabric as much or more than the song. And the interpretation of the great writers is a matter of enormous importance and significance.

More so in the case of the Polish composer who requires high levels of expressive refinement. You cannot ignore that in the emergence of more furious Romanticism, the keyboard became an incredible vehicle for individual creative expression which was upgraded to reach a maximum potentiality.

Hence, for authors who occupies our mind, a mere exercise of virtuosity serves rather little. Or frankly not at all.

Chopin configured a particular creative universe in which his two concertos for piano and orchestra became important issues in his career. They are works in which classical architecture wears a romantic spirit where shines the deep emotion that surrounds his musical ideas.

His music has been approached by many. Those who leave footprint are less, and in our days, it is difficult to find interpreters who provide substance when approaching Chopin's legacy, despite the extreme toughness and competitiveness with which pianists are forced to live. Perhaps the cause of the shortage is in the hastiness and the dizzying pace with which young performers are thrown to the cycle, maipulated mercilessly by the multinationals. The careers take time to mature, with successes and mistakes.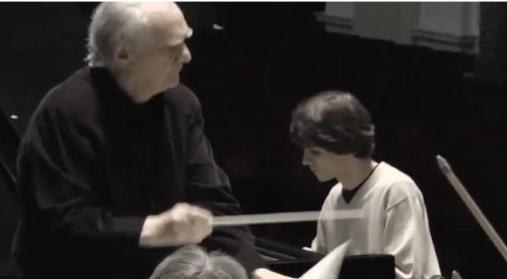 Rafał Blechacz won the Chopin Prize in 2005 and since then, has maintained an international career in the elite who have, in fact, Chopin's music as one of their strengths.

Now the impression is that he holds the rein of his career and his plans are cared well and rested. Blechacz publishes now for Deutsche Grammophon Chopin's two concertos with the Amsterdam Concertgebouw Orchestra under the direction of Jerzy Semkow.

His two versions are very interesting, vibrant, full of vigor and, at the same time, thoughtful, not impulsive.

In Blechacz's interpretation, aesthetic freedom can be perceived that fits very well with the lyricism of Chopin. This album shows a good example of the maturity of the Polish pianist at the keyboard in the artistically honest work seeking for the profoundness way above the immediate shortcut.

Blechacz has a long career ahead, and given his current situation, he should go further, to be embedded as one of the leaders of the piano. Enjoying his Chopin is now a pleasant exercise full of suggestions and nuances in which you can hear and have a glimpse of his projection.




---------------------------------------

A short comment on the U.K.site (TV&Showbiz)
Scroll down to the bottom.

"Being Polish and a Chopin Competition winner, Rafal Blechacz is going to find himself playing a lot of Chopin. These are beautiful performances, but I noticed more 'spontaneous' touches in the studio recording of the F minor Concerto than in the live version of the E minor. **** "

(Author is not specified.)