Review of Rafał Blechacz's new CD "Chopin The Piano Concertos",
written by Kazuhiko Utasaki, in "Record Geijutsu (=music, arts)" December, 2009 edition,
published on November 20.

Utasaki wrote liner notes for Blechacz's previous CD "sonatas" Japanese version last year.





As I expected from his performances in Preludes by Chopin and Vienna Classical Sonatas, this performance of Chopin's two Concertos couldn't be more proper. For Rafał Blechacz, the first Polish winner of on the Chopin Competition since Krystian Zimerman, these concertos are where he is at his strongest.

With the complete control over the pieces, his performances are stable, flowing comfortably, living up to all our expectations. Listening to him playing honestly and unfolding music in a well-balanced manner, you can sense his inner self-confidence. Although he doesn't sprinkle especially unique expressions, his playing is full of youthful spirits and feelings of vitality.

His sound - transparent, thoroughly polished and not too much stiff goes well with these pieces. While exhaustively expressing details he never fails to be natural. Amazing!

The way he begins playing the solo part in the first movement of E minor concerto is majestic. He was able to bring out merits of the piece by paying attention to the smallest detail in the first motif of the development section. The clear sound and poetic sentiments in playing the second movements of the two concertos are beautiful. The noble expression not turning into excessive suggestiveness is just like characteristic of Blechacz.

Sometimes I felt he is too conservative. I wish I could hear his daring to demonstrate his sharp technique in the final movements, but it is a part of musicality of this young and well-mannered pianist.

The orchestra part is performed by the Royal Concertgebouw Orchestra. The attractive sound of this prestigious orchestra could be emphasized more, but Semkow, a veteran Polish conductor took a fair and square way and generously supports Blechacz's solo part in a thought-out manner.
[The CD is strongly recommended.]
(by Kazuhiko Utasaki)



The 7th Hamamatsu International Piano Competition (November 8 - 23) completed the final stage performances today and selected Cho Seong-Jin, 15 year-old Korean secondary school student as the winner.
Four out of six finalists were Koreans.
Performances streaming

Rafał Blechacz was given the second prize in the 5th Hamamatsu Competition (2003) and no 1st prize was awarded.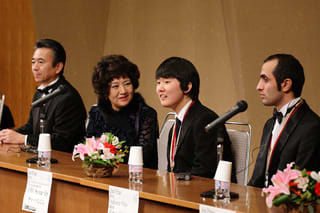 Hiroko Nakamura, head of the jury with Cho Seong-Jin, the winner



**I was planning to go to Tokyo Suntory Hall this weekend for a recital by a Jewish-American pianist but was informed that he was infected with H1N1 swine flu virus, developing into pneumonia, and the entire Japan tour was cancelled.
Sincerely hope that he will recover soon.
Some of my acquaintances have been affected by the epidemic.

All the musicians, music lovers, everybody, please be careful!!
Don't let the flu prevail!!