Yesterday I posted the link to the blog "The Well Tempered Ear" written by Jacob Stockinger, ☆
an American professor and former editor of The Capital Times newspaper in Madison, Wisconsin
who touched uopn Blechacz's CD "sonatas".


I left a comment on his blog and he replied it impressively quickly.
He said in the reply comment that Blechacz's new CD "Chopin The Piano Concertos"
will be officially launched in US market on February 23, 2010,
although European import version is already available on-line.





It is a good timing.
Feb.23 is the following day of (officially documented) birthday of Chopin
(when Blechacz inaugurates the Special Chopin Birthday Week by playing the concerto in F minor at Warsaw Philharmonic Hall)
and just a few days before Blechacz begins touring in North America.

As far as I know, Blechacz will give concerts in US between Feb.26 and March 6 and
his itinerary includes a special recital at the United Nations Headquarters in NY on March 1,
the day of birthday as claimed by Chopin.

Read the article and comment on the Well Tempered Ear.


Reading about your favorite artist written by someone in different environment is quite interesting,
because what you'll find is, as far as music is concerned, the shared value, not a difference among people.


Jacob Stockinger writes;
"I also very much liked his debut album of Chopin's Preludes and two late Nocturnes.
He seems a great young Chopinist, no?"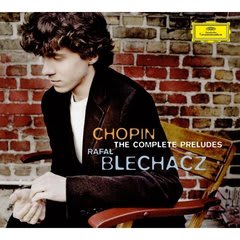 Absolutely Rafał's Chopin is superb.
Personally, however, I'm reluctant to characterize him a Chopinist;
I also love pieces of other composers played by him.
His Mozart is terrific in particular.
And Bach....You'll have opportunities to listen to his Bach Partita in B-flat Major, No. 1 in concerts next year.

Several venues hosting his concerts next year have announced recital program.
(Example: Program @ Milan Jan.26, 2010.)
J.S. Bach - Partita n. 1 in si bemolle maggiore BWV 825
W.A. Mozart - Sonata in si bemolle maggiore K 570
C. Debussy - Pour le piano
F. Chopin - Scherzo n. 1 in si minore op. 20
F. Chopin - 3 Mazurche op. 50
F. Chopin - Polonaise-Fantaisie in la bemolle maggiore op. 61

Chopin's pieces in the 2nd half of recital differ, depending on the venue.

(Example: NY, Feb.26)
Bach—Partita in B-flat Major, No. 1
Mozart—Sonata in B flat Major, K.570
Debussy—Pour le piano
Chopin—Ballade No. 3 in A flat Major, Opus 47
Chopin—Scherzo in B minor, Op. 20
Chopin—Polonaise fantasie in A-flat Major, Opus 61
(Thanks to Roman for a reminder.)

The program structure doesn't apply to Japan where all-Chopin recitals are scheduled.

See concert schedules (1)(2)

Please be noted that the planned program is subject to change.