I wrote on this blog on November 12 that "Chopin Complete Edition" played by Arrau Claudio, Argerich Martha, Pires Maria Joao, Ugorski Anatol, Ashkenazy Vladimir, Pollini Maurizio, Li Yundi, Blechacz Rafal, Zimermann Krystian, Pletnev Mikhail was published by Deutsche Grammophon.

Deutsche Grammophon site. demo listening is available.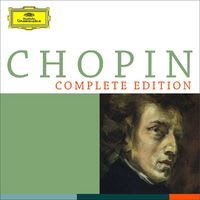 The box of 17 CD was also launched in the Netherlands and Jan notified me of the link to NRC, the most prestigeous newspaper of the Netherlands offering the unique special album of the complete works of Frederic Chopin at the occasion of the 200 anniversary of Chopin's birthday.
(Many thanks to Jan.)

NRC site

Click on "meer information" and you see Rafal Blechacz with the Preludes between all the famous interpreters.





Review of "Chopin The Piano Concertos" posted on Platomania (Dutch). (Thanks to Jan!)
In the Netherlands, the CD was launched on October 2.

As a prelude to the Chopin Year 2010 (200tigste birth) Deutsche Grammophon presents a brand new recording of two piano concertos with young Polish Rafal Blechacz (24) on the piano and Polish conductor Jerzy Semkow for the Royal Concertgebouw Orchestra.

Chopin wrote two piano concertos at around twenty, (the Second Piano Concerto was written first) when he had a happy life in Warsaw.
Shortly after that he had political reasons to change from his beloved homeland for Paris where he became completely on piano solo patron.

The two Polish musicians feel exactly the atmosphere when Chopin experienced on composing.
This recording of last July in Amsterdam is great, the soloist feels himself in one of the world's best-sounding concert halls completely in his element.