From
"Excellent CDs of Classical Music – Volume for Musicians"
,
Akiyasu Fukushima's thoughts on Rafał Blechacz's recording.
Akiyasu Fukushima:
Born in 1962. Graduated from Department of vocal music, Toho Gakuen University School of Music.
Music critic and conductor of choir.
Author of music books.
----------------------------------------
He is often referred to as the first Pole who won the Chopin Competition in 30 years since Zimerman,
but his performance style is on the opposite extreme of spectrum to Zimerman's.
Zimerman is a perfectionist and narcissist. My impression of him when I listened to him playing firsthand at his recital in May this year was that he is always conscious of how he is seen.
Blechacz, on the contrary, simply gives pure music.
He never puts up a bluff so I even feel that he is too unpretentious.
He never acts important.
Needless to say, he is flawless technically.
Furthermore, the finely-honed sensitivity and freshness of rousing pleasure that is naturally welling up
inspire the listeners.
It's miraculous that we have a pianist like him born and lives with us now.
"Piano Recital" is a recording in April 2005, six months before the Chopin Competition.
All the pieces on the disc – Sonata No.2 in G minor by R. Schumann, Suite Bergamasque by C. Debussy,
Variations in B flat minor by K. Szymanowski – are genuine music without any exaggeration.
"Chopin Competition Live I & II" are documentary about a young man of pure heart indifferent to vanity or ambition, depicting the very moving story that he eventually reached the very top.
How his music was captivating audience's hearts can be felt.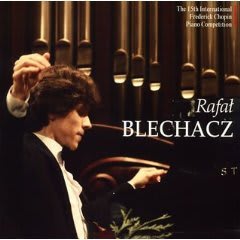 Chopin Competition Live I
"sonatas-haydn, mozart, beethoven", a CD that Uno-sensei (sensei=teacher) highly recommends,
contains refined repertoire, not catering to commercial interest,
representing Blechacz's conscience as an artist.
He provides fine performances for Haydn and Beethoven.
And when listening to the 2nd movement of Mozart's sonata k.311, I feel as if I've personally come across the heart of Mozart who sheds tears with a smile.
My heart is too full for words.
Listen to Mozart sonata k311 2nd movement played by Blechacz. (Video)
From Rafał Blechacz's note on CD "sonatas"
"Mozart's Sonata in D major, K. 311, showcases his always original, indeed unique, pianistic style, with its distinct references to his operatic and symphonic music.
The use of achingly beautiful vocal themes in the second movement is exceptionally moving and calming, and clearly shows that opera was Mozart's greatest love.
I feel that the middle movement is often the "heart" of a work.
It is the place where the composer, as well as the performer, takes the opportunity to reveal in sound everything lurking in the deepest reaches of his soul.
He is free to articulate everything while still leaving it nameless".
(Rafał Blechacz)
-----------------------------------------------------
Mr.Fukushima's evaluation: ★★★★★
"Piano Recital"  Performance ★★★★★  Recording ★★★★☆
"Chopin Competition Live I & II" Performance ★★★★☆  Recording ★★★★☆
"sonatas-haydn, mozart, beethoven"  Performance ★★★★★  Recording ★★★★☆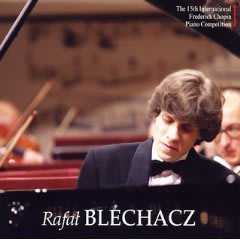 Chopin Competition Live II
Koho Uno's thoughts on Blechacz.
Takeshi Nakano's thoughts on Blechacz.
**
The three critics have highly evaluated Blechacz's recordings and it is not always the case when they write of other artists. It seems that Uno has the biggest voice in selecting artists to be discussed in this book. But the other two are never yes-man and for several artists, there is a total disagreement among the three.
Overall, with the three distinctive perspectives, this book provides a well-balanced guide for listeners to refer to. Personally, I like the approach taken by Fukushima who thoroughly studies subject artists and recordings, looking at works/artists with polyphonic and honest viewpoints. He describes reviews with simple and plain words.
As for Fazil Say, the fact was that Uno was deeply impressed by Say's recent live performances of Haydn and Mozart in Tokyo while his recorded performances on CD of the same composers were boring. (Uno gives only one star to his Haydn sonatas on CD).
I hope Uno will attend Blechacz's concert. I'm interested in how he will be impressed by the sparkling "live mode" offered by Blechacz.