Review of "Welt Edition: 1.Polnische Seele im Exil (Polish soul in exile)" (←demo is available),

recordings of Chopins works played by Lang Lang, Jean-Marc Luisada, Rafał Blechacz, Adam Harasiewicz, Tamás Vásáry, Hélène Grimaud, Ivo Pogorelich, Daniel Barenboim and Anatol Ugorski,

reviewed by Volker Blech,
posted on WELT.de on December 4, 2009.

The CD includes the Prelude in D flat major "Raindrop" played by Blechacz.

Original review (German)






A seven-CD series, selected by the editors of Kulturredaktion, WELT and Deutsche Grammophon on the occasion of the 200th Birthday of Frédéric Chopin in the spring of 2010


"Hats off, gentlemen, a genius" a music critic of early twenties wrote about Frédéric Chopin in 1831. That critic named Robert Schumann recognized his colleague as an exuberant genius. But can a composer, who actually is tied only with a single instrument, the piano, be a genius at all? The Argentine-born pianist and conductor Daniel Barenboim, whose deromanticized Interpretation (1982) introduced the famous Nocturne in E flat major on this CD, has never dealt with this name lightly. Because what one can recognize is a genius in the end? It must be, Barenboim once said in a conversation, he has been always something that developed such an effect on music history, in which he has been so and not otherwise?

Undoubtedly, Chopin's gift, his virtuoso music changed the piano world decisively. And the effect of his music continues unabated until the present day: Every piano student in order to be an internationally acclaimed virtuoso - some of the most prominent among them are gathered on this disc - must be gauged by Chopin.

It belongs to the strange observations that geniuses usually don't awaken in the metropolises spoiled with offers but in the seclusion, in the province, at the periphery of the music-business. Chopin certainly doesn't come from a great musical nation, and to this day he remains the only internationally operative Polish composer. However, he felt drawn into an important music-center, namely to Paris, someday. However, there were other informal reasons. The composer born on March 1, 1810 in Żelazowa Wola near Warsaw, during a concert-trip in Germany, startled over the news of the rebellion, in Poland in 1831, decided to go to Paris. His father had once emigrated from France to Poland. Chopin, the ardent patriot finally died in 1849 in Paris, too young, wrestling with his homesickness.

This feeling culminated his work, especially through the use of the Polish people's assets mainly in the dance pieces such as Mazurkas. An example is provided by the Hungarian pianist Tamás Vásáry with his melancholy recording of the famous A minor Mazurka of 1965.

The Mazurka also appears in the finale of the Piano Concerto No. 2 in F minor again. The concerto shows at the piano, Chopin's enormous creative energy which stretches far beyond explosive feelings of miniatures, and also draws attention to his limits as a composer - the orchestral treatment is clearly takes second place to the piano part.

A masterpiece, whose heart is in the slow movement. The F minor Larghetto is an unfulfilled love (supposedly dedicated to the singer Konstancja Gladkowska). Chinese Lang Lang, a foster child of the pianist Barenboim, like his teacher separates from the biographical musical. The work must speak for themselves. Lang Lang's interpretation of 2008, which was created in cooperation with the Vienna Philharmonic under Zubin Mehta, puts a priority on a brilliantly staged picture between fragility and rebellion rather than mysterious overtones.

Another notable observation also implies that a genius is always attracted to aother genius. Chopin's Preludes Opus 28 were unthinkable without Johann Sebastian Bach, whose "Well-Tempered Clavier", he could play by heart. The Croatian pianist Ivo Pogorelić leads the A-major Prelude from the most virtuoso restlessness (1990).

By contrast Rafał Blechacz presents the D-flat major Prelude with all the outbursts and striking saloon posturing, but also in great simplicity recovered (2007). The young Pole has Chopin's feelings inside him. The true genius always grows out of inwardness (

Innerlichkeit).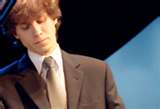 This review reminded me of another review of Blechacz's recital in Naples, Italy, in Feb. 2008, where the reviewer (he is also a pianist) was impressed by a spontaneous reaction from the audience.

".....the Preludes are Chopin's most significant and emblematic work. Blechacz...taking out individual songs to make them shine in a perfect mosaic, with all the pieces in place as one unit.
There were also moments of rare beauty, with smooth singing, speaking of one of the most famous preludes "Raindrop" which sparked spontaneous applause from the audience during the performance and Blechacz responded with a smile..."

Original review (Italian)


"Hatts off!" to Chopin Preludes op. 28-14 & 15 by Blechacz.
@ Recording session of "Complete Preludes", in Hamburg, July 2007.
[parts:eNozsDJkhAMmJhMjUyZjU2NGJgszSyPTNEuLpLK8dI/UTNfwYkcmGDA2xS4P1czEhKQSAPFZEAo=]


In commemoration of 200th birthday of Chopin, various events are planned and special recordings are published in many countries.
This CD is one of the examples.
I'll introduce examples of Latin America later.