konkursmuzyczny.pl
provides information of the International Competition for Young Pianists Arthur Rubinstein in memoriam.
Earlier this year I saw an article of the competition's history and found a comment by Jan Popis on Rafał Blechacz who won the 2nd prize in the 2002 competition.
Unfortunately, that article was gone from the site (it seems the history page is under reconstruction)
but let me pick up Mr.Jan Popis' remark.
I was prompted to do so after seeing Rafał Blechacz playing Piano Concerto in G minor by Saint-Saëns
in this
tvp.pl
video (only for seconds, though. @26-34th second)
Below is Mr.Popis' comment and the photo from the original article.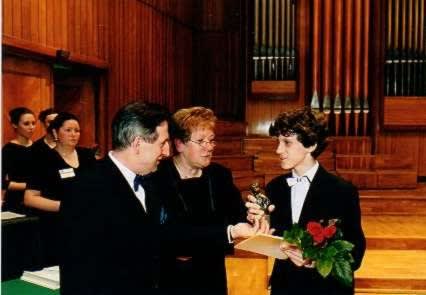 More photos from the site of Yuko Kawai (Japanese pianist)
……Undoubted success belonged to 16-year-old Rafał Blechacz, an extremely talented student of State Music School of second degree from prof. Katarzyna Popowa-Zydroń's class who took part in the Competition in 2002 and won the second prize, and thus commenced his world artistic career.
Jan Popis then talked about the young talent of Rafał in the following manner:
"It is a great joy for us Poles to have Rafał Blechacz - finalist, the second prize winner of this year's competition.
Let me say that such a beautiful artistic fruit was taken by Ewa Stąporek-Pospiech, Director of Arthur Rubinstein State Music School by ten years ago initiating the International Competition for Young Pianists Arthur Rubinstein in memoriam.
Then very shy, very, tiny, small, but very talented Rafał had a chance to look at this contest, its repertoire and the winners, and in 2002, took part in it and got so high.
He has a special kind of talent. Maybe he is not a type of entertainer who comes and immediately throws the audience to their knees as if his talent will explode.
He is rather more introverted, but so natural, so noble and so able to penetrate musical ideas that in this competition he had no equal.
Moreover, in recent days, Rafał's pianism has been firmly established. Rafał excellently cope with large items.
He performed Sonata in G minor by Robert Schumann, was also superb in his execution of Scherzo in B minor by Chopin.
And even though many participants performed Szymanowski, I do not recall that I've heard during the competition, more beautiful, more original and insightful interpretation of the Variations in B flat minor, Op. 3 of the composer (than Rafał's)
Rafał is a pianist of great versatility, natural talent, deep and true excellence.
I think that in the coming period in his artistic development there will be a jumping progress, even though now he has reached a very high level of his artistry appreciated by the audience, but above all by the jury."
(by Jan Popis, 2002)
Jan Popis:
Critic of music, producer and record publisher; Artistic Director of 'MUZA Polish Recordings'
(Original:Polish)
Niewątpliwym sukcesem był natomiast udział niezwykle utalentownego ucznia PSM II st., 16 letniego Rafała Blechacza z klasy prof. Katarzyny Popowej -Zydroń, który na Konkursie w 2002 roku zdobył II nagrodę. Jan Popis wypowiedział się wówczas o młodym talencie Rafała w następujący sposób:
"Wielką radością dla nas Polaków jest Rafał Blechacz - finalista, laureat II nagrody tegorocznego Konkursu. Jest to, powiedziałbym, taki piękny owoc artystyczny podjętej przez dyrektor Ewę Stąporek-Pospiech przed dziesięcioma laty inicjatywy powołania przy Państwowym Zespole Szkół Muzycznych im. Artura Rubinsteina Konkursu Arthur Rubinstein in Memoriam. Niegdyś jeszcze bardzo skromniutki, malutki, drobniutki, ale jakże utalentowany Rafał miał okazję przyglądać się temu konkursowi, jego repertuarowi i grze laureatów, by w roku 2002 wziąć w nim udział i dojść tak wysoko. Jest to talent szczególnego rodzaju. Może nie jest on typem estradowca, który wychodzi i od razu rzuca na kolana audytorium, jak gdyby eksploduje swym talentem. Jest on raczej bardziej introwertyczny, ale tak naturalny, tak szlachetny i tak potrafiący przeniknąć idee muzyczne, że w tej konkurencji nie ma sobie równych. Poza tym w ostatnim okresie pianistyka Rafała mocno stężała. Rafał świetnie radzi sobie z dużymi pozycjami. Znakomicie wykonał Sonatę g-moll Roberta Schumanna, wspaniałe było również w jego wykonaniu Scherzo h-moll Chopina. I mimo, że wielu uczestników wykonuje Szymanowskiego, nie przypominam sobie, żebym dotąd na konkursie słyszał piękniejszą, bardziej oryginalną i tak wnikliwa interpretację Wariacji b-moll op. 3 tego kompozytora. Rafał to pianista o dużej wszechstronności, talent naturalny, głęboki i naprawdę nieprzeciętny. Sądzę, że w najbliższym okresie w jego rozwoju artystycznym dokona się skokowy progres, choć przecież już teraz osiągnął on bardzo wysoki poziom swego artyzmu docenionego przez publiczność, ale przede wszystkim przez jury."
"Pure Beauty!"
The famous description of Blechacz's playing was first used by Jan Popis during the 2005 Chopin Competition.
On this occasion, I revisted Popis' essay about Blechacz written for
the Gazeta
of the Competition on Oct. 22 again and found that almost all that I've learned from various sources about the artist are already included in this writing, especially repertoire in his younger days.
If you want to learn about Blechacz, reading this essay could be one of the most efficient ways.