"Sinfonia", monthly journal for the members of The Symphony Hall; Osaka, Japan
offered in its Feb. edition a special column about Rafał Blechacz
written by Ms.Yoshiko Ikuma, a music journalist.
Ikuma expresses her expectations for Blechacz's recital to be held at The Symphony Hall
on Feb.22, 2009, the final leg of Blechacz's Japan Tour
as well as her joy of listening to Blechacz's music.
Graceful and fresh; his pianism sounds deep in our hearts
"Entering the Chopin Competition had been a dream for long years.
But it really came home to me how difficult for a Pole to join this competition.
I was in anguish days and nights with the doubt if I could demonstrate fully what I have.
It was a struggle against myself rather than I was concerned of someone else.
I offered prayer to the Lord every day so that I can keep my composure.
In order to concentrate myself on my performance, I've never listened to other contestants".
This is how Rafał Blechacz poured out his true feelings soon before his victory was announced
at the 15th International Chopin Piano Competition in Warsaw in October, 2005…….
From the very beginning, people spoke of Blechacz's play as if Chopin himself plays.
He never bangs keys; strikingly beautiful pianos are deeply rooted in his profound expression.
The rhythm is light and the tone is fresh; making us feel that the piece was just created now.
But deep inside the performance is tinged with the traditional sound,
reminding us of
the days when Chopin lived,
quietness and aroma of romanticism.
While other contestants showed off aggressive, speedy and dynamic Chopin,
Blechacz created his own world: the space of tranquility and peace.
"I used to play the organ in my parish church.
I began piano at the age of five and since then I couldn't separate myself from piano.
I would play J.S. Bach very often and I have kept playing Chopin as beloved and respected composer.
When Chopin lived, the time passed slower and people's lives were quieter;
they had composure to think about things thoroughly.
The music of those days did not require them to be aggressive or run at full speed.
I want to maintain Chopin's music in such a manner.
I would like to offer the music that can heal listeners' hearts and minds.
It would be terrific if I could play to let their hearts absorbed in the beauty of music".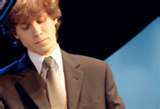 His attitude towards music has been consistent.
When I saw him for the first time, he looked quiet and self-restrained.
Gradually, however, I noticed changes.
Recently, he is more humorous, and jokes appear here and there as he speaks.
He has worked with distinguished conductors and orchestras in Europe and made his debut in America successful.
Furthermore, he made
a spectacular debut at Salzburg recital
, welcome by a storm of applauses by discriminating audience.
When I saw him the next day for interview, he looked unconcerned and said,
"I enjoyed it!",
showing mental strength of not overwhelmed by the big stage.
He rather smiled, "I was pleased to see that all the seats were occupied".
I saw a pianist who had stepped out into the wider world.
Blechacz has been given various advices from
Krystian Zimerman
, the compatriot pianist whom he respects,
making a steady growth as a musician.
He has devoted himself to practice to the extent that surprises his mentor.
I believe that the strenuous efforts that could be described as "severe" have made his performance on the big stage successful.
Zimerman says,
"Rafał is a great talent.
I say so not because he is a compatriot or the winner of Chopin Competition like me but because he is truly gifted.
When I listened to his play for the first time, I was fascinated.
I sensed the awesome talent latent in him.
I was sure that it must be matured gradually, through practices and through actual stages.
Musicians' caliber is honed through live performances on the stage.
The stage could be a very small one at the beginning.
You can start from small and gradually step forward.
You should not try to expand your repertoire thoughtlessly.
You take time to face yourself, your heart and mind and increase the repertoire as you grow.
Sometimes, however, the winner of the international competition is not allowed for such a timeframe for gradual, slow development.
He could be inundated by a flood of requests.
It made my life very difficult at initial stage.
Therefore, I hope that Rafał will not take the similar negative paths
and go straight through the royal road.
This is what I often tell him as my advice".
Zimerman highly evaluates the way Blechacz lives and faces music –
his sincerity, quiet passion, respect for composers and their works and down-to-earth attitude.
Zimerman hopes that Blechacz's modus vivendi should have synch with the way as musician.
The two musicians meet on various occasions.
They have deepened friendship as colleagues of music rather than senior and junior.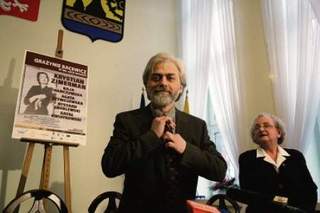 Blechacz has launched the second album "
sonatas
" from DG.
He selected the pieces of Haydn, Beethoven and Mozart.
All the three sonatas are full of energy to give you emotional uplift as well as rich poem.
They are played in the Blechacz way that you cannot expect of from other musicians.
What fascinated me most is the 4th movement of Beethoven's sonata No.2.
Strings of ascending graceful sound pearls intensely knock at the door at the depth of my heart
– the door to guide me to the world of impressive, beautiful music.
His sounds linger in me and I cannot resist the temptation to listen to his music again and again.
Actually, I cannot tell how many times I listened to this movement.
Every time I feel stress or have some troubles, I close my eyes and listen to this music.
I then gradually sense brim of romanticism by Beethoven though Blechacz's pure and unpretentious expression.
I then feel that the smoke in my heart is expelled.
The joy in the process is beyond description.
This piece of Beethoven is included in the program of Blechacz's recital in Japan tour.
How blessed we are!
In addition, all the other works in the program of Mozart, Chopin and Szymanowski, his compatriot composer and his biggest respect
are the ones that he has been meticulously playing for years.
I am confident that he will demonstrate through his performances how enriched his life is now, physically and mentally.
----------------------------------------------------------------------------