Interview given by Rafał Blechacz for Japanese music monthly "Chopin" April, 2009.
Interviewer: Mr. Takaakira Aosawa
------------------------------------------------------------
He truly knows himself.
It is my impression about Rafał Blechacz every time I listen to his performance.
Since his victory in 2005 Chopin competition paved the way for him
to be actively engaged in appointments in the world over,
he has never been carried away by the fuss.
With his innate modesty, he always delivers decent music.
In his tour in Japan in February 2009, he performed Beethoven's concerto No.4
with RSB directed by Marek Janowski and five solo recitals.
The performance implied that the 23-year-old is never in a hurry,
spending his time to quietly reflect on himself.
The close contact he has with each composition permeates intact into hearts of the audience.
Blechacz's rendition has something to let such a pure empathy happen.
To play Chopin, he beautifully revealed the innermost heart via Mazurkas.
He faithfully depicted Heroic Polonaise without catering to the extroverted heroism.
--------------------------------------------------------
Q: You chose concerto No.4 by Beethoven for the current Japan tour.
I think the concerto fits well with your personality, Mr. Blechacz.
It is brimming with natural songs supported by the sense of robust structure.
A: This is of different type of music among five piano concertos by Beethoven.
I would like to perform all five concertos in my repertoire in due course
but first I wanted to perform No.4 that has been my favorite for long years.
I'm not the pianist who has a background of German culture.
To play the concerto with the German musicians, therefore, has been quite meaningful in this regard.
Q: May I ask you how you select your repertoire overall, not limited to concertos.
What is your prospective map to draw?
Do you have any plan to follow for next 10 years or over, say, until age of 60?
A: It's difficult to foresee at the age of 60. (laughing)
But I have a perspective to some extent, bearing recordings in mind in this context.
I've already recorded two albums from Deutsche Grammophon.
I would like to expand repertoire of classical composers especially sonatas
that I have been learning since I began playing piano
while trying to deepen my interpretation of Chopin's, the most important composer for me.
When trying to expand my repertoire and improve my pianism and technique,
it's very important to think what kind of pieces the audience wants to hear.
In the current Japan tour and other recitals,
typically I place Bach, Mozart, Beethoven, Liszt, Debussy and other composers' in the first half,
setting aside Chopin's music in the second half.
It is the style to accommodate such needs of the public.
Q: There are an enormous amount of pieces when you think about your repertoire.
My impression is that you are cautious and rather honest in picking up the music you play.
You select the program that can express and convey who you are,
exemplified by the sonatas by classical composers.
What are your aesthetic criteria in selecting your repertoire?
A: For me, what is most important is if I perform it naturally.
If I don't feel sympathy with the piece or believe that I can understand it well,
I can't deliver the music to the listeners.
It is after I find the music that catches me and practice it to make it my own
that I can get my performance across to the audience and they really appreciate it.
Q: Do you have any criteria or rule to determine that you have made the music your own,
although I know that it is something personal and delicate?
A: If I talk about Chopin, because Chopin's music have always been close to me,
I feel and accept it quite naturally.
I feel something intimate between what I infer from his music and myself.
Another type of music is for example, concerto G major by Beethoven.
Initially, I didn't think that it would be permeating into the depth of my heart,
but as I learn and read it faithfully, it eventually fell into my hands,
giving me confidence that I can perform it.
For me it has been s a kind of adventure.
I rather want to begin with the works that I feel close to me naturally,
such as Suite bergamasuque by Debussy and music by Bach.
I want to record Mazurkas by Chopin; possibly there will be an opportunity to record all the Mazurkas.
Q: On the contrary, do you have any work that you feel is farthest from you among first-rate music
– the music that you never feel like performing before audience?
A: It is about some specific pieces rather than composers.
I'm not in a position to talk about that now (laughing).
It is a very delicate part and it may hurt someone who loves the music if I say that I won't play it.
Let me keep it to myself.
Q: When a new piece comes into you, what kind of chemical reaction is taking place within you
if you feel a gap between you and the music?
A: It is very difficult.
It is related to what is the most important for you when you embrace an artistic work and try to reproduce it.
Should you accept the work exactly the way it was written
or should you find a way to deliver your own feeling, utilizing what has been written?
My approach is that what is written in the music score is something absolute
and I should express exactly what is written.
How then can I express what the composer didn't write or what he couldn't describe fully?
Here, I need to express my loyalty to the composer's work.
I need to read and understand what the composer experienced or felt when he composed the music,
and then I need to re-live his experience to express it in my performance.
Every written note has a meaning.
So I must feel empathy with all the notes as my own and fully understand to express them all.
This process is necessary to completely interpret the composed work.
By so doing, I believe that I can express the true intention of the composer.
Q: If a composer feels something painful like Chopin, for example,
how can you assume his pain through his composition?
A: I think there are various ways to have empathy with the piece.
A very delicate person could feel another's pain as if it is his own pain.
When you listen to a part of music, how you react may differ.
It can make you recall the pain that you suffered in the past;
or it can vividly remind you of the pain another person went through.
But I also think that it is quite interesting that we associate music with pains and other various emotions.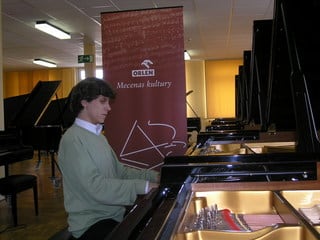 Q: Whichever piece you play, you always show us the world
which is noble, delicate, beautiful and filled with harmony.
I feel your performance purify me of the sadness, pain and even joy.
A: I am appreciative of what you say.
Probably it doesn't answer your question
but what I try to do through music or what I value in my life is
"to be natural".
In performing music work, my role is to play it as the composer wanted me to play
and to reproduce what he wanted to express today.
For me, trying to respond to his wish is natural
and to achieve that, I need to select the music that I stay natural with.
Finding a commonplace between his music and what I am
and identifying myself with what the composer left to me
would result in the naturalness that I'm supposed to achieve.
Q: Finally, what do you expect the musician called Rafał Blechacz to do?
A: I have never tried to show off myself or contradict what is written in musical score;
I have never been contrary to what is expected of the performer.
Probably I will remain the same.
For me, nothing is more important than being natural.
I want to always remain what Rafał Blechacz is.
And Rafał Blehcacz is the person who always lives his life and interprets music naturally to perform it.
I want to remain my own man. It's my current wish.
Please read Mr. Takaakira Aosawa's review on Blechacz's concerts in Tokyo, Feb., 2009.
---------------------------------------------------------------
My husband has just returned from work. He looks happy.
He wears i-pod and says abruptly,
"Ah, Blechacz is great.
I'd feel walking in the forest even in the crowd.
It's quieting and purifying".
(↑ He was listening to Preludes by Chopin; we live in central Tokyo.)