↓ The news of Rafał Blechacz's successful perforomance in Rome, in the evening of Jan.30 came from Mr.Roman Frackowski, US.
I would like to appreciate him for bringing such a good and important news!!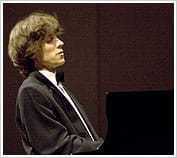 From the good source we know that tonight in Rome Rafał Blechacz, Andrey Boreyko, a conductor, and the Santa Cecilia Orchestra won a big success with the Roman audience playing Chopin's Concerto No. 2 (F Minor) to the full house (Sala Santa Cecilia of Academia di Santa Cecilia sits 2800 people!).
There was no end to the enthusiastic applause.
Rafał responded with two encores, both Chopin's mazurkas: A Minor Op. 17 and A flat Major Op. 50.
After the intermission the Orchestra played two other pieces: one by Gustav Holst and one by Meyers.
Before the concert there was the Chopin exhibition opening in the lobby of the Academia (a manuscript of Chopin's mazurka E Major Op. 6 No. 3 is on display).
During the intermission Rafał gave an interview to the Polish TV (will be broadcast in Poland probably on Sunday).
Polish Press Agency (PAP) already issued the news about the tonight Italian Omaggio a Chopin inauguration by Rafał Blechacz:
PAP news
Rafał will play a matinee concert on Sunday, Jan. 31, 2010, 12:00 noon
evening concerts on Feb. 1 & 2, 2010 (same place, conductor and orchestra)