Rafał Blechacz will play Chopin's Piano Concerto in F minor
with Andrey Boreyko conducting the Orchestra dell'Accademia Nazionale di Santa Cecilia,
at Auditorium Parco della Musica - Sala Santa Cecilia, Rome, Italy,
on Jan.30, Feb.1 & 2 as well as on Jan.31.


Preview posted on "Comune di Roma" (Italian)



Rome, January 29 - Two major events at the Auditorium Parco della Musica opens the celebrations of 200 years since the birth of Fryderyk Chopin:
Concert, Saturday 30 January at 18:00, the young and already great Polish pianist Rafał Blechacz, directed by Andrey Boreyko will be an interpreter with the Orchestra of St. Cecilia's Concerto in F minor, Op. 21 by Chopin, and the exhibition "A Passo Mazurka - from Poland to the world", which will be open to the public from 31 January to 8 March.

"A Passo Mazurka - from Poland to the world" is a temporary exhibition devoted to Chopin and particularly the genre of the mazurka. The exhibition, staged in the spaces of MUSA - Museum of Musical Instruments in Santa Cecilia, is in collaboration with the Fryderyk Chopin Institute in Warsaw and the Polish Institute of Rome, which also participated in the realization of the concert.
For the first time in Italy will be exposed to the public manuscripts and editions, the historical and contemporary imagery, scores and important documents, plus a selection of texts is particularly significant for the interpretation of the mazurka. Of great importance and interest is the presence in the exposure of the manuscript of the Mazurka in E major, op. 6 n. 3, the only autograph text of this composer preserved until today. The manuscript, which Chopin titled Mazur, was written by the composer in Vienna in 1830 on two sheets torn from a diary. The Mazurka in E major was included by the composer in Opus 6, the first work containing Mazurkas that Chopin dedicated to Paulina Plater.

The 2005 winner of the latest "Chopin in Warsaw, the most important of the international piano competitions crowning in the past musicians of the class of Maurizio Pollini, Martha Argerich and Krystian Zimerman, Rafał Blechacz is already considered among the best performers today, and the great Polish musician, revered at home as a hero to pay tribute. In the Season of Chamber Music Academy, also Krystian Zimerman (10 February) and Maurizio Pollini (February 24) will appear. The Concerto in F minor was dedicated to the Countess Delphina Potocka, beautiful friend and compatriot of Chopin composed in 1829, was performed for the first time by the compoer in Warsaw March 17, 1830.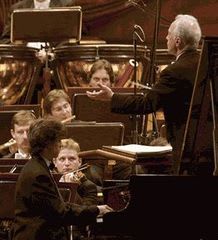 With Antoni Wit (not Andrey Boreyko)
Blechacz will perform Chopin's Concerto in F minor with Wit in Warsaw
on Feb.22, inaugurating Chopin Birthday week



In the second half of the concert, the suite for large orchestra "The Planets" by Gustav Holst, written during the years of World War I and executed in public for the first time in London on 15 November 1920. As is evident from the title, the composition is dedicated to the planets, but does not take into account ours and then an American musician and astronomer Randall Meyers added the missing planet: "Gaja", our Mother Earth, to be presented in world première . Directing the Orchestra and women Chorus of the Accademia di Santa Cecilia, Russian Andrey Boreyko, after the resounding success achieved in 2007, returns to the Parco della Musica in Rome.

Saturday, January 30 hours 18 - Monday, February 1 at 20.30
Tuesday, February 2nd 19.30
Auditorium Parco della Musica - Sala Santa Cecilia

Director Andrey Boreyko
Rafał Blechacz piano



Previews by
culture.pl (English)
culture.pl (Polish)
↑ This preview says that Blechacz will play Chopin's Concerto in E minor, but it will not be the case.

It seems that there have been some glitches somethere in the communication of organizers and some people expected the Concerto to be played is F, while others are not informed so and prepared for Concerto in E.
Blechacz will perform the Concerto in F minor in the end.

In the similar token, the recital program in Treviso (Jan.27) had not always been rightly communicated to the public. I remember I saw two different programs on different websites.

The recital program that Blechacz performed was as follows: (the same program as Milan)

Johann Sebastian Bach
Partita Nr. 1 B-Dur BWV 825

Wolfgang Amadeus Mozart
Sonate Nr. 17 B-Dur KV 570

Claude Debussy
Suite "Pour le Piano"

INTERMISSION

Fryderyk Chopin
Scherzo Nr. 1 h-Moll op. 20
Three Mazurkas op. 50
Polonaise fantaisie As-Dur op. 61

(Info. source: Roman Frackowski)