Newsweek

Polish version posted on Dec.31 an article about the special concerts
in commemoration of Chopin's 200th birthday,
titled "Kulturalny rok 2010: muzyka poważna" (The cultural year 2010: classical music).

Newsweek (Polish)

It introduces artists playing for the Special Birthday Week,
Rafał Blechacz inaugurating the event on Feb.22, 2010 followed by the video of his playing Chopin Polonaise in As major.

If you click on the link at

Rafał Blechacz

in the article, you can read an extensive article about Blechacz,
titled "Preludium do kariery (Prelude to a career)",

written in Sept. 2007, when his debut recording "Preludes" was released from Deutsche Grammophon,
and just before Blechacz made a recital debut at serie Meesterpianisten (Master pianist series) at Amsterdam Concertgebouw
presented by Riaskoff Concert Management, one of the most influential agencies to promote musicians in the world.

It is a story to describe a young promising artist starting to climb towards the summit
not from an artistic but a business viewpoint.
The article reiterates the importance of working with key agencies in each country
saying that Blechacz is now represented by such important agencies in major markets.

Blechacz at serie Meesterpianisten 2009-2010, on May 9, 2010.
Blechacz at serie Meesterpianisten 2007-2008, on October 7, 2007.

** You could follow the long story (hopefully) aided by this machine-translated English.







Chopin's Parish Church in Brochów (Kościół Świętego Rocha w Brochowie)




Jan (Holland) sent me a card of happy holiday and a new year
with a photocopy of the certificate of Chopin's baptism and English translation;

---Brochov (Brochów) Parish Resister 23 April 1810
' I have carried out the ceremony of baptism on a child to whom were given the names Frédéric François,
born 22 February…..'---

with a copy of the program of Special Birthday Concert that Rafał Blechacz will give on February 22, 2010 for the 200th birthday of Fryderyk Chopin.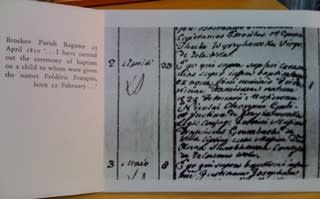 Thank Jan for a very auspicious greeting for the new year 2010.




I also received an e-mail from Dana (Poland) weeks ago
and she wrote about similarity between Chopin and Rafał Blechacz
in that reviews of the concerts that Chopin played were very similar to those of Blechacz's.

Excerpt from her mail:
"I read a book titled "Chopin -Life and Creative Way (Życie i droga twórcza)"
by Polish author T. Zielinski PWM edition 1998.

I am very surprised by the likeness between Chopin and Rafał.
For example, next fragment about the concerto is very interesting.

On 17th of March, 1830, Chopin played the first time for public the concerto in F-minor
and "Gazeta Warszawska" wrote:

"Mr. Chopin unites all the good points of piano to the highest degree:
power, fluency but above all feelings- every touch of the key is voice of his heart...
The plentiful applause said goodbye the artist and his disarming modesty raised his rank of talent."

Other paper "Powszechny Dziennik Krajowy" wrote;
"The pianist never wanted to shine, his modesty always was in every piece.
It seems that the playing talks to public: This isn't play, this is music! ...
Mr. Chopin showed that you can astound listeners without noises of music that are prevailing nowadays."
(End of her mail)


Thanks to Dana.
She suggests that finding articles of Chopin's period that shows Chopin's similarity to Rafał
can be a nice present from this blog to celebrate Chopin's anniversary.
Hope that we'll find and post another fragment.

I often feel the same way as her;
when reading about Chopin, I sometimes have an illusion that I'm reading about Rafał Blechacz.