Beata & Dana sent to me a link to the beautiful PVT site for the 2010 Chopin Year.
Thank you very much as always!!


PVT site for Chopin Year (English)
Polish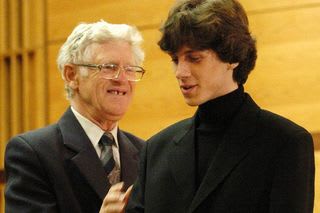 from Gallery of this site, with Professor Andrzej Jasinski


French site for "Chopin 2010 in France"

and

US site, "Washington celebrates Chopin's bicentennial 2010 with concerts, films and lectures ".

The plans of the two cities, Paris and DC, include Rafał Blechacz's recitals, on June 14 and Feb.27, respectively.


In Poland, a gala concert is in the foyer of the Parliament building on Jan.20 to mark the 200th anniversary of Fryderyk Chopin's birth. The National Philharmonic Orchestra under Antoni Wit will perform Chopin's Concerto in E minor, with Piotr Paleczny, as soloist. ☆



Rafał Blechacz will leave for Italian tour in a few days.