A review written by John J. Puccio, a retired American teacher, posted on his blog.
Not a full-time music critic, John gives a very balanced view to this CD.

Original review

Wednesday, January 27, 2010
Chopin: The Piano Concertos (CD review)

Rafal Blechacz, piano; Jerzy Semkow, Royal Concertgebouw Orchestra. DG 477 80888.

To begin, a couple of observations: First, DG did not record the album in front of a live audience. Count that a definite plus; maybe the record companies are doing better financially. Second, it's good to see both of Chopin's Piano Concertos on a single disc. There was a time not too long ago that we got only one or the other of the Concertos per disc. These are refreshing signs.

Polish composer Frederic Chopin (1810-1849) was only around twenty years old when he wrote his two Concertos, actually writing the Concerto we know today as No. 2 before No. 1, but not publishing them in the order he wrote them. So if Concerto No. 1 seems more mature and has become more popular, it's because it wasn't his first attempt in the genre. Anyway, the reason I mention the composer's age is because it's doubly appropriate that not only is pianist Rafal Blechacz Polish, but he's also quite young. What's more, the conductor, Jerzy Semkow, is Polish. I'm sure Chopin would have been pleased.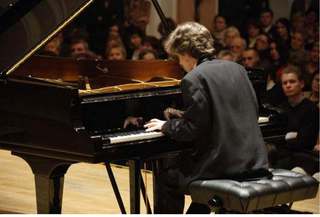 Blechacz may be young, but he is not youthfully overexuberant or careless. He applies a delicate, graceful, flowing touch to Chopin's dreamily contemplative themes, the performances more about nuance of feeling than about sheer technical brilliance. Although, to be sure, Blechacz appears to possess a good deal of virtuosity as well.

These are largely gentle readings, even though Blechacz treats the opening movements with lavish joy and the closing movements' liltingly dance-like rhythms with verve. However good they are, though, it is the middle Larghettos that Blechacz sees as the core of the works, and not only does he present them lovingly and poetically, he blends their lyrical tone nicely with the more-vigorous surrounding movements. This may seem surprising, especially since Chopin marked the final sections Vivace ("very quick, lively"), but Blechacz is able to do just as Chopin requested while maintaining the rhapsodic mood of the center movements. He is always aware of the nostalgic, sentimental Romanticism at the heart of the Concertos. Of course, it also helps that the pianist, conductor, and orchestra play as one to accomplish their goal, and they pull it off nicely.

DG pull off the sonics nicely as well. The orchestra is the Concertgebouw, whose wonderful hall has always produced some of the most-glorious acoustic effects possible, giving the ensemble a warm, glowing, but never overpowering ambient bloom. In this 2009 recording the audio engineers manage to create a big, full, smooth, dynamic sound, with moderate transparency and good punch. More important, they reproduce a beautifully rich, solid, and vibrant piano sound, a mite close perhaps, but very lifelike.

Maybe young Blechacz's new recording does not entirely displace some established favorites in the First Concerto from the likes of Pollini (EMI), Argerich (EMI), Rubinstein (RCA), or Li (DG), but surely he deserves mention as an entirely viable alternative.


**
I saw that this review was quoted by others, on other website and by the Twitter.
Recently I see more Twitter messages chatting about classical music and sometimes Rafał's topics being discussed by this instant messaging method.


**
Website in Ukrine, introducing Blechacz's CD Concertos.
It is the first time that I saw an article of Blechacz written in Ukranian.

"It is easy to predict that next year will be full of music of Fryderyka Chopin. In Bicentennial of the birth of the romantic genius, the world prepares seriously and with magnitude. An announcement already has been done by the disc by the Chopin contest winner, the most popular young Polish pianist of our time, who is often compared to the famous compatriot - Rafal Blechacz. His recording of two Chopin piano concertos performed with the orchestra of the Royal Concertgebouw (Amsterdam) under the direction of Jerzy Semkow for "Deutsche Grammophon", was put on sale already in October, almost immediately after the official release. Those who like the 24-year-old pianist, will be able to feel a range of emotions of his peer to be conveyed - even a century later".