Universal Music Classics offers an interview video given by Rafał Blechacz during his recording session of CD "Chopin The Piano Concertos" in July, 2009.

Watch the video from Universal Music Classics site



(I noticed that viewing the video is not always easy. I couldn't view it with my 2nd PC and on different browsers than IE. It looks like that generally the Universal site has constraining setting; eg google map is disabled on my PCs. Anyhow Good luck!)



Part of this interview was used for the trailer of Deutsche Grammophon and many of you have already watched it.


But 2nd half of this video is new! With a quiet enthusiasm, he talks about Maestro Semkow, Royal Concertgegouw Orchestra and his musical career.

My friend in U.S. found this new version of video. Thanks a lot to her. And Happy Valentine's Day!! to Americas (where it's still Feb.14).

She always excavates precious materials that I'm not aware of with my routine Internet search.

Recently, she says, she was at the bookstore browsing a music magazine looking for something about Rafał Blechacz. A man sitting next to her talked to her, asking,
"What are you searching?"
She said,
"We are having Chopin's birthday shortly so anything about Chopin would be wonderful."
He then asked,
"Do you know Rafał Blechacz?"

A pleasant conversation followed. For her, it was the first time that she was asked about Rafał Blechacz by someone rather than she asks the question to others.
This man said that he really wants to have Blechacz's concert in more convenient locations in US and she agreed.
(She lives in the southern part of US where a famous piano competition is held.)

He was looking forward the release of the CD of Chopin Concertos in US (Feb.23)
and she already obtained the imported CD last October..



Recently I was asked by a fan in Spain if and when Rafał Blechacz performs in Spain this year or next year.
I don't know the answer. She says;
"I'm a great fan of Rafał Blechacz and watching his videos has inspired me to study more and play better".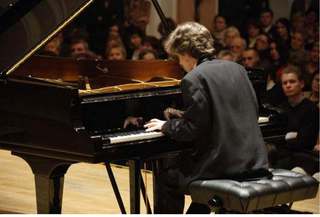 A few days ago I wrote here that Blechacz's recital and interview in Hamburg will be broadcast on March 7 and the program will be available via ZDF for the next seven days. (Appreciate Mr.Roman Frackowski for the info!)

Yesterday I found that ARTE + 7 site will also give the video streaming for seven days.
←Europe only, due to the copyright restriction.
Downloading is possible from this site.

ARTE program description
It describes Blechacz's performances elegantly. I want to put it in English in later days.

ARTE + 7 site ←Video streaming

←Europe only.