Photos & articles about Blechacz on Feb.22, 2010.

Chopin Institute The birthday concert.

English of this article (official English from Chopin Institute site)

(Excerpt of Blechacz's part from the article)
"After the interval Fryderyk Chopin's birthday party finally begun. A warm welcome was given to the pianist, Rafał Blechacz, who jumped onto the stage to perform Piano Concerto in F minor Op. 21. The tutti exposition, as well as the whole part of the orchestra, was played according to the best Polish performing tradition. It was the more enjoyable that just few days earlier London Symphony Orchestra had carefully performed all of the notes of the Concerto, but stripped the work out of all ideas of great Polish conductors that already form the canon of the performance. This tradition can be traced back to Grzegorz Fitelberg, and even to Karol Kurpiński.

The skilled performance of Rafał Blechacz attracted our attention from the very first note. The musical text was given flawlessly, while playing was spontaneous and energetic. The freedom of performance was as evident as was pianist's control upon the musical time and phrase. Without challenging the performing tradition of the work, Blechacz was able to introduce his own ideas, which came in particularly large amount in the Finale. The famous Larghetto was truly memorable; the cooperation between soloist, conductor and orchestra was exemplary. The dialogue with bassoon was remarkable moment of the interpretation. Moreover, the horn player dealt successfully with his arduous part. The whole performance was energetic, and the mazurka in third movement was given an apt execution. Therefore it was not at all surprising that the audience reacted in standing ovation that convinced the pianist to offer two Mazurkas as encores. The first of them, Mazurka in A minor Op. 17 No. 4, was phenomenal. Blechacz gave unforgettable performance, his interpretation was mesmerizing: no one dared to applaud as the last note vanished in the air. There was still silence. Everyone tried to stay as long as possible in the Chopin's World, brought to us by Rafał Blechacz with skill and sensitivity".
(End of excerpt)



Krzysztof Komarnicki




Reporterpoland During the rehearsal.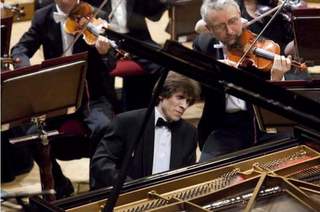 Thanks to Beata & Data for the contribution!