On Feb.22, 2010, Rafał Blechacz played Chopin's 2nd concerto in F minor with Warsaw Philharmonic Orchestra directed by Antoni Wit at National Philharmonic Hall for the Gala concert, opening the Chopin Birthday Special Concerts Series.

I received a news of his great performance soon after the concert at 23:00 (CET).

"Rafał's playing of Chopin's Concerto No. 2 tonight at National Philharmonic Hall in Warsaw with Warsaw Philharmonic Orchestra under Antoni Wit was so beautiful that the audience enthusiasm was explosive.
Standing ovation had no end.
Rafał played two encores and still couldn't leave the stage".
Many thanks to Roman Frackowski for the super-auspicious news. 


I also received SMS message from Dana and Beata who attended the concert in Warsaw.

"Really fantastic playing. Standing ovation & two encores (mazurkas).
The hall was full. Wonderful evening!"
Many many thanks to Dana & Beata!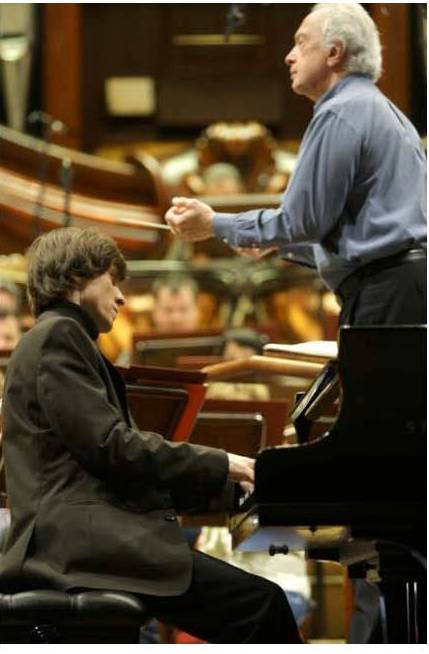 Rehearsal in Warsaw for the concert on Feb.22
This Spanish article, introducing Chopin 2010 events, shows another photo of Blechacz during the rehearsal.


Pan Roman also notified us of the planned broadcast of the concert and the interview with Blechacz by Polish Radio 2 at 19:00 on Feb.23 (CET).

announcement by Polish Radio 2 of the program

Listen to the program from here.
Click on słuchaj w internecie to hear the program.
↑
This link is supported by Real Player.

Now Jan, a fan of Blechacz in Holland notified me of the link by Windows Media Player.
He says, "I will listen and hopefully experience the great feeling of the audience". (Thanks a lot to Jan!)

mms://stream.polskieradio.pl/program2

ラファウ・ブレハッチの、2月22日、ワルシャワでのショパンバースデイウィーク初日ガラコンサート(ショパン協奏曲第2番)は大成功を収めました。
当日のショパンコンチェルト2番(2月22日@ワルシャワ)と、彼が21日に受けたインタビューの放送はこちらから。
日本時間24日午前3時から放送。おそらく最初がラファウのショパンコンチェルト、次にラファウのインタビュー、最後がシューマン交響曲2番の順だと思います。

↑順番違ってましたね。ごめんなさい!!
シューマン→RBのインタビュー→RBのショパンコンチェルト→RBのアンコール(→RBのCDよりPreludiaのop.28-15~24、ノクターンop62)の順でした。
私はシューマンの2番を聴くと、バーンスタインを思い出します。亡くなる直前の演奏(ビデオ)と映像がよみがえりました。。ブレハッチとは関係ありませんが。。
でも、全然違う。こんなに粒のそろった端正な演奏もあるのね(笑)。。

Pan Roman also notified that on Monday in the afternoon, the Polish Radio II broadcast a part of the interview with Rafał Blechacz (conducted by Anna Skulska) and played the Finale from his DG recording of Concerto in F minor.

You can listen to this interview (partial) from the following URL (podcast).
Listen to Rafał's interview with Anna Skulska from this link.
放送予定のインタビューの約半分が、すでにこちらのサイトでアップされています。
一番最新のラファウ・ブレハッチの元気な声をどうぞ。

It says that on the eve of the concert in Warsaw, Rafał Blechacz talked with Anna Skulska about:

- The impact that stage experiences have on the same performer and his interpretation.

- Search of Chopin's secret ...

- Meetings with the great musical masters: Valery Gergiev, Jerzy Semkow, Antoni Wit, Mikhail Pletnev, Maurizio Pollini and Krystian Zimerman.

- His future plans related to the Chopin Year celebrations.


On Sunday Rafał Blechacz gave another interview for A. Rozlach of Polish Radio 1 and the interview was broadcast on the same day at 23:00.
21日には、別のインタビュー(アダム・ロズラフと)のインタビューも受けました。誰も気づかないうちに当日放送されてしまいました。残念!



Jacek Marczyński's review of the concert on Feb.22 was posted on Rzeczpospolita' site on Feb.23.

"....His interpretation was full of dynamic contrasts and at times kept daring tempos..."

Original review (Polish)
English of the review, machine-translated, but fully understandable.

このレビューによれば、ワルシャワでは、非常に独自性の高い、大人な解釈・演奏だったようです。